---
Bureau Veritas has reported 'strong' 2018 results, with 7% revenue growth at constant currency of which 4% is organic growth, and free cash flow up 45.8% year-on-year at constant currency.
2018 Key Figures:
Revenue of €4.79 billion in 2018, up 7.0% year-on-year at constant currency (cc) with organic growth of 4.0% of which 4.4% in the last quarter.
Negative currency impact of -4.7% with -2.0% in Q4.
Adjusted operating profit of €758 million in 2018, up 8.4% year-on-year at cc.
Adjusted operating margin of 15.8%; 16.1% organically (+20 basis points year-on-year).
Adjusted net profit of €417 million (€0.96 per share), up 15.3% year-on-year at cc.
Free cash flow of €478 million, up 45.8% year-on-year at cc.
Proposed dividend of €0.56 per share, payable in cash or in shares; Wendel intends to opt for a payment in shares.
2019 Outlook:
Solid organic revenue growth.
Continued adjusted operating margin improvement at constant currency.
Sustained strong cash flow generation.
2020 Ambition Reaffirmed:
Growth Initiatives generated 6.3% organic growth in 2018.
Continuation of external growth with six acquisitions in 2018 and two in 2019 year-to-date.
Digital transformation accelerating; global partnership with Microsoft on artificial intelligence.
Didier Michaud-Daniel, Chief Executive Officer, comments:
"Bureau Veritas' 190th anniversary marks another year of growth acceleration and a significant step-up in the group's transformation. Most importantly, our Move For Cash program is now delivering benefits with a material improvement in free cash flow generation.
The group further enhanced its cyclical resilience. Bureau Veritas is developing its profile towards more Opex-related activities rather than Capex, and it now benefits from a more balanced geographical footprint across three platforms: the Americas, Asia and Europe.
Our growth potential has been reinforced yet again with six acquisitions to support our strategic plan development. The group's M&A pipeline will provide many opportunities moving forward whilst maintaining a strict financial discipline.
Finally, we will pursue our strong customer-oriented strategy to repeat the success in being awarded contracts such as Qatargas with high-value solutions implemented among targeted global customers.
As regards the 2018 dividend, the group will offer to shareholders the option to receive the dividend in cash or in shares. In the latter case, a 10% discount will be applied.
In 2019, we expect the good momentum experienced in 2018 to continue despite an uncertain economic and political environment in various regions. We remain confident in our ability to meet our 2020 ambition."
Read the article online at: https://www.lngindustry.com/liquid-natural-gas/28022019/bureau-veritas-announces-its-2018-results/
You might also like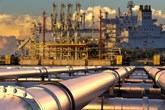 At every stage of the LNG process – from pretreatment to transportation – accurate and reliable measurements are essential for optimising production, maintaining safety, and ensuring profitability.