---
Golar LNG has releases its interim results for the period ended 30 September 2019.
Financial highlights
Following the Barcarena power project award and increased coverage on the shipping fleet, contract earnings backlog (Golar LNG Ltd share) is expected to increase from US$6.6 billion to US$7.0 billion, once a final investment decision (FID) for Barcarena is taken.
The company's liquidity position is substantially strengthened as a result of the drawdown of the new US$150 million facility, and post quarter end, draw down of the US$700 million FLNG Gimi facility and the agreed release of US$75 million of Hilli Episeyo restricted cash.
Operational Highlights
Shipping:

Time Charter Equivalent (TCE) earnings of US$35 200 for 3Q were negatively influenced by a weak start to the quarter and by positioning and repositioning for 5 dry dockings.
Three vessels commenced their dry dockings during 3Q – two of these completed during the quarter and one concluded in 4Q.

FLNG:

FLNG Hilli Episeyo – 100% commercial uptime maintained: 29 cargoes exported to date. Perenco are planning for a drilling campaign in the Kribi area to prove up more reserves during 2020. If successful, this may lead to further capacity utilisation and/or contract extension for FLNG Hilli Episeyo. The companies are also in discussion regarding a smaller increase in production which will utilise part of train 3 starting from 1Q20.
FLNG Gimi - Conversion progressing according to schedule and budget.

Golar Power:

Gas has been introduced to Sergipe power station with hot commissioning underway.
Awarded a 25 year power purchase agreement (PPA) for the construction of a 605 MW combined cycle thermal power plant in Barcarena, Brazil. This is also expected to include a 25 year FSRU contract.
Execution of Brazilian small scale downstream distribution strategy progresses including signing up customers, purchase and delivery of the first 12 isotainers and a commitment to charter in small scale LNG shipping capacity from Avenir.
Iain Ross, CEO, comments:
"Further progress has been made this quarter toward the company's goal of being the leading independent developer of long-term LNG infrastructure. Significant progress has been made on execution of the company's downstream LNG distribution strategy and on strengthening the company's financial position.
Continued strong growth in LNG production around the world and associated lower pricing together with customer's increased focus on their ESG responsibility is also accelerating their appetite to switch from burning coal, fuel oil and diesel to cheaper and cleaner LNG.
The recent award of Golar Power's second 25-year gas to power project supports our strategy to transform Golar into a world leading LNG infrastructure player delivering flexible energy solutions that provide much needed stability to an energy grid that has seen substantial renewable energy growth. The Barcarena 605 MW PPA award underpins the development of a second hub terminal in Brazil. This project, together with progress on downstream distribution of LNG using spare FSRU capacity, transforms Golar Power from a single project company into a business with significant and demonstrable growth potential. This potential will be realized through the introduction of new and more efficient technology that can be integrated in a user-friendly way that makes it easier for customers to switch to LNG. This approach will also facilitate bespoke solutions for smaller customers allowing for demand aggregation, something larger LNG producers have paid little attention to.
Increasing interest from oil majors and NOC's, appreciative of our low cost and flexible FLNG solutions and impressed by our flawless operational track record is also encouraging. Part monetisation of a current contract and use of a shipyard able to offer more attractive payment terms provides the potential to lift additional FLNG projects.
The proposed shipping spin-off in its planned form, has, disappointingly for the Board, not yet been completed. This is due to a misalignment between the founding parties of the proposed newco causing Golar to withdraw from the process. Golar remains committed to splitting the ships into a separate vehicle and is revising the mechanism that it will use to achieve this."
Read the article online at: https://www.lngindustry.com/liquid-natural-gas/27112019/golar-lng-releases-latest-interim-results/
You might also like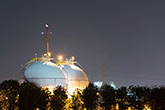 Gate terminal B.V has selected VINCI Construction Grands Projets – Entrepose Contracting, Sener, and Sacyr Proyecta to execute the expansion of the terminal with a fourth LNG storage tank.