---
Flex LNG Ltd., together with its subsidiaries, has reported unaudited results for the three and nine months ended 30 September 2018.
Highlights for 3Q18
On 9 July 2018, the company took delivery of Flex Rainbow from Samsung Heavy Industries according to schedule. Flex Rainbow is the company's fourth LNG carrier on the water while nine LNG carriers are currently under construction.
Reported revenues for 3Q18 of US$19.0 million, compared to US$9.8 million in 3Q17; and US$41.1 million for the first nine months of 2018, compared to US$19.5 million for first nine months of 2017.
Reported an EBITDA of US$12.7 million compared to an EBITDA of US$(4.1) million in third quarter 2017. The EBITDA for the first nine months of 2018 was US$18.1 million compared to a negative EBITDA for first nine months of 2017 of US$(13.9) million.
Reported net profit/(loss) for the third quarter and the first nine months of 2018 of US$1.2 million and US$(3.5) million respectively, compared to a net (loss) in the third quarter and first nine months of 2017 of US$(4.0) million and US$(11.7) million respectively.
Subsequent events
On 11 October 2018, Flex LNG successfully conducted a private placement, raising gross proceeds of the NOK equivalent of US$ 300 million, corresponding to NOK 2.46 billion (based on a currency exchange rate of US$/NOK 8.21), through the placing of approximately 172.93 million new shares at a subscription price of NOK 14.25 per share. The private placement was significantly oversubscribed. Geveran Trading Co. Ltd., the company's largest shareholder, has been allocated approximately 57.64 million shares for approximately US$100 million, and will retain a 44.6% ownership in the company following the private placement.
On 11 October 2018, in connection with the US$300 million private placement, Flex LNG entered into a transaction for the acquisition of five 5th generation LNG newbuildings; comprising three high-end MEGI LNG carriers currently under construction at Daewoo Shipbuilding and Marine Engineering Co. Ltd. (DSME) with scheduled delivery in 2020, and two high-end X-DF LNG carriers currently under construction at Hyundai Samho Heavy Industries Co., Ltd. (HSHI) with scheduled delivery in 2021. The LNG newbuildings were acquired from affiliates of Geveran Trading Co. ltd. the company's largest shareholder.
As interest for large modern vessels have been very high in the winter season, Flex LNG is pleased to announce that it has already covered all available days for the fourth quarter. We are thus in position to give guidance on the expected revenues for the fourth quarter. Based on the current backlog, Flex LNG expects that the revenues for the fourth quarter of 2018 will be approximately US$35 million. This is considerably higher than the revenues of US$19 million reported for the third quarter. Forward guidance is subject to regular operation including off-hire and acceptance of vessels by charters.
Øystein M Kalleklev, CEO/CFO comments
"Flex LNG has rapidly become the largest owner of modern fifth generation LNG carriers with a fleet expansion from six to 13 vessels since we presented our first quarter results at end of May. Unlike the vast majority of other LNG shipping companies, we decided to strategically pursue shorter term employment until the shipping market showed signs of rebalancing. The market has now rebalanced with current fixtures now being agreed at all-time high rates. Thus, Flex LNG is very well positioned to reap the benefit of our strategy. This is somewhat evidenced by the company's improved financial performance in the third quarter, but more importantly highlighted by the very strong guidance for the fourth quarter as well as the outlook for next year. We think the LNG shipping market will remain tight due to a combination of large increase in liquefaction capacity in the near, medium and long-term, limited fleet growth, increased ton/mileage and increased focus on improving air quality favouring the ongoing switch from coal to natural gas."
Read the article online at: https://www.lngindustry.com/liquid-natural-gas/27112018/flex-lng-releases-interim-financial-information-3q18/
You might also like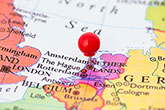 VTTI and Höegh LNG have signed an agreement to jointly explore options to develop and operate Zeeland Energy Terminal, the Netherlands.