Creation of Asian gas trade hub to take time
---
Hopes in Asia for a more flexible pricing structure for gas supplies may not be realised in the near term, a senior analyst told Gastech 2014 on Wednesday. Asia gas consumers currently pay higher prices for gas and LNG than those in North American and European markets. This is because Asian buyers often enter into long-term supply contacts that are linked to oil indexes.
Chris Holmes, Senior Director Global Gas & LNG at IHS Global said that gas buyers in Asia are hoping that North America's emergence as a potentially significant LNG supplier could ease gas prices because the supplies would be indexed to the market-based US price benchmark, Henry Hub. Buyers in Asia want to establish a similar index for Asia that would be based on a regional gas trade hub.
Absent factors
However, the creation of an Asian gas trade hub will take some time as the factors that would be needed to support it are now largely absent on the continent. Holmes said that an increase in market participants such as commodity traders and harmonised regulatory rules would aid an evolving Asian gas hub. Crucial to this evolution, he said, would be the cooperation of governments who would need to reduce controls on the energy industry and accept increased market forces. "The hubs in [the U.S. and Europe] took 20 years to develop. There's no reason to think that things will be any different here," he said.
In order to satisfy rising global demand, international gas producers have said that current contract arrangements between supplies and Asian buyers are necessary to help guarantee the financing of future projects.
Change
Yoon Sang-jick, Korea's Minister for Trade, Industry and Energy, and Jang Seok-hyo, CEO and President of Korean Gas Corporation, called for changes in the gas pricing structure when they spoke at the opening session of Gastech 2014 on 24 March.
Adapted from press release by Ted Monroe
Read the article online at: https://www.lngindustry.com/liquid-natural-gas/27032014/asian_gas_trade_hub_is_unlikely_to_occur_soon_expert_says/
You might also like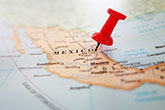 Mexico Pacific Limited and Woodside have signed a sales and purchase agreement for 1.3 million tpy of LNG for 20 years.