---
Robert Dalziel, Texo Group, UK, outlines the latest developments in the integration of LNG services.
Asset services companies in the oil and gas sector now have to be much more than individual service-line specialists. While individual service specialisms are very much required, operators across the industry are looking for an integrated asset services approach: they are looking for an inspection, engineering, procurement and construction (IEPC) offering. Individual services have to be available as part of a much more comprehensive end-to-end engineering solution that can deal with all asset lifecycle challenges.
What's included in a full IEPC LNG solution?
Integrated IEPC services for LNG operators need to meet demands for all aspects of operations. This covers turnkey design and build engineering solutions (fixed, floating, transportation) and solutions for petrochemical and marine (construction vessels and supporting assets). IEPC provision needs to provide not just the range, but the depth of service and deliver product lifecycle support – from front end design, through to engineering, fabrication, installation, inspection, repair, maintenance, commissioning and decommissioning.
Onshore and offshore, LNG operators require heavy fabrication services – and with marine specialisms for construction vessels and mob/demob. Fabrication capabilities such as structural, quayside and pipework fabrication, with weld procedures for C/S, S/S, RQT and Duplex, are called for, together with fabrication facilities in multiple locations and globally. Repair and maintenance are also critical service areas: integrated air, land and subsea inspection capabilities are indispensable, with comprehensive NDT, repair and maintenance for mission-critical assets.
In subsea and marine operations, technology, engineering and asset support services need to include extensive ROV and diving scopes. In addition to all repair, maintenance, fabrication, procurement and inspection services, an IEPC provider must also deliver compliance and HSEQ consultancy, competence assurance and resilience services, as well as skills and behavioural training for client teams.
Challenging the status quo
In order to meet the changing marketplace, Texo Group has been looking to challenge the status quo and the traditional structure of EPC companies, which tend to have fragmented supply chains. Texo has redesigned the service model to make it more client-centric and anticipate future demands. New processes and technologies have been developed to help clients to operate, manage and extend the safe working life of their assets. Based on the integrated model, the company has formed six operational group divisions: Texo Drone, Texo Engineering, Texo Fabrication, Texo Marine, Texo Compliance and Texo Inspection.
Case study: LNG in Tanzania
The LNG industry's requirement for integrated services is illustrated by a recent project that was carried out by Texo in Tanzania where Texo Compliance recently delivered major emergency management initial response (MEMIR) training at a proposed LNG facility off the Tanzanian coast on behalf of East African Regional Gas Operator, Pan African Energy Tanzania Ltd.
Major gas discoveries have been made offshore Tanzania and the country is emerging as a potential large gas producer in East Africa; 23 trillion ft3 of gas has been discovered offshore in the Songo Songo gas field, which is located on and offshore Songo Songo island, about 15 km from the Tanzanian mainland and 200 km south of the commercial capital, Dar es Salaam. If sanctioned, the LNG development could offer significant long-term benefits to Tanzania mainly through domestic gas, government revenues, employment and local content.
The Songo Songo project serves two onshore and three offshore natural gas wells at the island, the gas from the wells being piped to a plant on the island. The gas processing plant and pipelines are owned by Songas Ltd, and the gas plant and wells are operated on by PanAfrican Energy Tanzania Ltd.
PanAfrican Energy brought in Texo Compliance to assist with the development of criteria for training based around its comprehensive suite of emergency response processes and procedures. Texo worked closely with PanAfrican Energy gas plant managers to deliver realistic emergency response scenarios based on their specific requirements and covering contingencies which included, among others, from fire and explosion to offshore wellhead collision, rescue from sea and civil unrest. Part of Texo's role was also to assist with the development and implementation of systems to identify and manage situations before they escalate.
Automation and self-certification
Running alongside the move towards integrated IEPC services in LNG services is a development towards autonomous self-certifying inspection using robotics. Texo Group has recently added long range VTOL UHS (Unmanned Helicopter System) capability to its fleet. The company has taken delivery of its first Beyond Visual Line of Sight (BVLOS) unmanned helicopter – making it the first in the UK to do so. Texo is working in partnership with the CAA to develop BVLOS operations and deploy this system across its key client sectors, including the oil and gas sector.
With a 50 km+ live HD Data link and a 4.5 hour flight time, the UHS system is a 'game changer' for long-distance inspections in terms of safety and efficiency. For maximised safety, the system is fitted with an ADS-B transponder unit, which ensures seamless integration and increased interoperability within manned airspace and avoids conflict with traditional aviation; multiple redundancies are built into the system too. In line with the need for payload versatility, the system has been configured to adopt interchangeable payload options, including advanced 30x optical zoom HD camera systems, thermal imaging and LiDAR.
Tackling fundamental problems for LNG
In LNG, as elsewhere in the oil and gas sector, applications and services need to be combined for maximum efficiency. Corrosion is an ever-present problem for all process plant and pipelines. Corrosion under insulation (CUI) is corrosion or corrosion-related cracking that occurs under insulation and/or fireproofing. It is a major problem in all parts of processing industry, and a large part of a plant's maintenance budget will be spent dealing with it. Corrosion is estimated to cost the UK economy a total of £28 billion each year – and to cost the global economy £4 trillion.1 Over 20% of the major oil and gas incidents reported within the EU since 1984 are associated with CUI, which represents a real operational and safety challenge to LNG operators.1
Texo Group has recently developed an integrated ultrasound thickness (UT) UAV system that can deliver a number of measurement applications and provide precise measurements on flat and curved surfaces of remaining wall thickness – regardless of coatings. Inspection data is combined with a precise photogrammetric visual overlay of the completed survey, pinpointing exact measurement locations on the structure/surface to an accuracy of sub 10 mm. Accuracy is matched by speed: such inspections are 20 times faster to complete than traditional access and measurement methods. Advanced microwave sensors used to detect CUI are currently being developed by Texo Group. Again all of this survey and maintenance technology is backed up by IEPC services that include full fabrication and procurement capabilities.
The drive for constant technological improvement
Aerial platforms are constantly improving as a result of R&D and investment, and the improvements extend across all platforms and applications. 100 MP aerial cameras are metric cameras with high resolution lenses; they are equipped with new leaf-shutter technology, which supports 3 fps capture – with a speed of 1/2500 sec – while guaranteeing 500 000 actuations. The camera lenses are thermally stable to ensure consistent focus over a wide range of temperatures and flight altitudes. Optics are designed to exploit the full benefits of the new sensor technology.
Texo has recently developed in-flight focus functionality, which is transformative in UAV technology for close visual inspection (CVI). It allows lenses to be focused live and in-flight, enabling a number of new uses for inspection applications where the focusing distance can be carried out in real time by the pilot. As with all application developments, the holy grail for LNG operators lies in achieving better client data in everything; in the case of improved CVI, the benefits extend to more detailed photogrammetry and orthomosaic capabilities. The intention is to integrate this technology into BVLOS capability.
The future of IEPC technology
LNG operators are now looking for integrated services to be provided. It is not enough to anticipate and diagnose a problem precisely: service providers have to be able to fix problems at all stages of the asset lifecycle and in all environments. They also have to be able to supply all solutions – from design and project procurement to repairs and maintenance and turnkey delivery. Service providers to LNG are also increasingly being asked to provide automated and self-certificated technology that can be deployed in even more operational spheres.
References
Materials Technology Institute, Aberdeen.
Read the article online at: https://www.lngindustry.com/liquid-natural-gas/26112018/a-new-approach-to-integration/
You might also like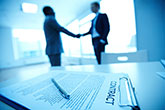 OMV has announced the signing of a long-term sale and purchase agreement with Cheniere Energy, Inc., covering the supply of up to 850 000 tpy of LNG beginning in late 2029.