CLNG commends vote on H.R. 6
---
President of the Center for Liquefied Natural Gas (CLNG), Bill Cooper, commended yesterday's bipartisan vote in the US House of Representatives to expedite exports of LNG.
Cooper commented: "The Center for Liquefied Natural Gas applauds the House Committee on Energy and Commerce for reporting H.R. 6 to the floor.
"The Committee's bipartisan action sends a message to the rest of the world of growing Congressional support for the United States re-emergence as a global energy leader.
"In light of bipartisan and bicameral support for accelerated LNG exports, I urge the full House to take action on this bill to accelerate the permitting of LNG export applications.
"The United States has the natural gas supplies and the economic ability to provide our allies with reliable sources of energy, without losing our competitive edge in domestic prices. Furthermore, allowing the sale of our natural gas abroad will improve the trade deficit and create more jobs while providing significant tax revenue to our local, state and federal governments. Each LNG export terminal is a multibillion-dollar investment that not only creates construction jobs but permanent jobs throughout the natural gas and manufacturing value chains. According to a study from ICF International, employment from LNG exports is expected to create between 73,100 and 452,300 jobs nationwide between 2016 and 2035.
"Numerous authoritative studies have found that LNG exports will benefit American consumers, and large industrial users themselves have affirmed that exports are good for their industries. With the right policies in place, our natural gas can benefit the American people, U.S. foreign policy and the energy security of our trading partners around the world. In the midst of continued bureaucratic delay, I applaud Congressional action to accelerate the approval of LNG export applications and demonstrate the United States' commitment to energy leadership on the world stage."
Adapted from press release by Katie Woodward
Read the article online at: https://www.lngindustry.com/liquid-natural-gas/26062014/clng_president_commends_vote_on_lng_exports_bill_862/
You might also like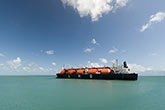 Furetank has turned a former office building into a maritime educational centre with a simulator complex for training, assessment, and certification in Donsö, Sweden.