---
TechnipFMC plc has reported its 3Q18 results.
Overview
Total company revenue was US$3,143.8 million. Net income was US$136.9 million, or US$0.30 per diluted share. These results included after-tax charges and credits of US$2.9 million, or US$0.01 per diluted share; adjusted diluted earnings per share were US$0.31.
Adjusted EBITDA, which excludes charges and credits, was US$430.5 million; adjusted EBITDA margin was 13.7%. After-tax charges and credits are detailed in the financial schedules.
Other significant pre-tax items impacting the quarter, for which we do not provide guidance, included the following:
US$34.4 million, or US$0.05 per diluted share, of foreign exchange losses included in corporate expense; and US$93.2 million, or US$0.20 per diluted share, of increased liability payable to joint venture partners included in interest expense.
Statement from Doug Pferdehirt, CEO
"Our third quarter results illustrate the benefit of structural cost savings and strong project delivery. This was most notable within Onshore/Offshore, where execution on key projects such as Yamal LNG has remained robust, leading to further improvement in adjusted EBITDA margin. Subsea continued to display strong operational performance. Surface Technologies results increased modestly versus the prior year despite softening completions activity in North America."
"Total company orders once again exceeded revenues, supporting a return to year-over-year growth in backlog. Total company backlog of US$15.2 billion increased 9% when compared to the prior-year quarter, with growth occurring in all business segments."
"During the quarter, we successfully delivered Train 2 of the Yamal LNG project, approximately six months ahead of schedule. LNG volume shipped to date now exceeds 5 million metric tons, a result achieved due to the project's accelerated delivery. Construction and commissioning of Train 3 is progressing well and is on track for another early delivery."
"We also successfully delivered two additional iEPCI™ projects in the third quarter – Trestakk and Visund Nord – both with Equinor on the Norwegian Continental Shelf. On Trestakk, our first awarded iEPCI™ project, we successfully delivered a fully commissioned subsea system utilising only a single season of marine operations. Visund Nord was delivered in just 21 months from concept selection to first production; this was a new fast-track record for Equinor. An important factor in the success of these projects was the strong collaboration with our partner, Equinor, and the integrated capabilities of TechnipFMC."
"The outlook for our three growth pillars – subsea, unconventionals, and LNG – remains favourable."
"In Subsea, the recovery that began nearly two years ago continues. Our Subsea book-to-bill has exceeded 1.0 in five of the last six quarters. Final Investment Decisions (FIDs) for large projects continue to increase, supported by considerable improvement in project economics and operator cash flows. The continued increase in FEED activity further supports our favourable outlook. With the industry's most comprehensive offering and the ability to leverage next generation technologies such as Subsea 2.0™, TechnipFMC is capitalising on the market evolution towards integrated subsea developments."
"For US unconventionals, the near-term uncertainty in completion activity will likely prove transitory. We believe that growth in hydrocarbon demand will continue, and the market will ultimately resolve takeaway capacity constraints. In the meantime, growth in drilled but uncompleted wells (DUCs) continues; the required completions will soon follow."
"LNG remains one of the fastest growing markets in the oil and gas sector. Demand growth suggests a new wave of LNG projects will need to be sanctioned in 2019 and beyond. Our 50+ years of experience has resulted in the delivery of over 20% of the world's operating capacity. We are well-positioned for this growth opportunity."
Read the article online at: https://www.lngindustry.com/liquid-natural-gas/25102018/technipfmc-announces-3q18-results/
You might also like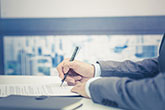 In its efforts to further boost natural gas utilisation in the country and enhance Nigeria's gas revenue, NNPC Ltd has signed two major agreements to deliver LNG to the domestic gas market and the international LNG market.