---
Growing numbers of transport companies are renewing their fleets to make them more environmentally friendly as Gasum expands its filling station network.
NCS Finland Oy, and its subcontractor Pinecape Oy, brought into use a LNG-fuelled Volvo tractor unit in July. The use of LNG in transport can reduce greenhouse gas emissions over the lifecycle of the fuel by more than 20% compared with diesel.
The EU's ambitious emissions targets to curb climate change also create a challenge for logistics companies to reduce transport emissions. The emission targets require heavy-duty transport to cut carbon dioxide emissions by 15% by 2025 compared to 2019 levels. NCS Finland and Pinecape are aiming to reduce their emissions by using LNG.
"LNG was the natural choice for us since it meets existing and future emissions targets," says Jarmo Halonen, COO, NCS Finland. "Our customers are increasingly interested in cutting emissions in transport and require more environmentally friendly alternatives. We want to impact the environment through our own operations and the easiest way to do this is to change the transport fleet."
NCS Finland specialises in comprehensive road transports across Europe. The company carries more than 30 000 consignments each year. Concern for the environment is an important value for the company, which has developed its operations long term in accordance with sustainability and customer wishes.
"We're pleased that leading companies such as NCS Finland and Pinecape are using LNG to reduce carbon dioxide emissions. We're strategically building a network of gas filling stations in Finland and the other Nordic countries to make it easier for growing numbers of companies to switch to a low-emission fuel," sums up Jani Arala, Senior Sales Manager, Traffic, Gasum.
Eco-friendliness and affordability of LNG were incentives to acquire the vehicle
Like NCS Finland, the company's subcontractor Pinecape also addressed low-emission transport solutions. Harri Nummela, Logistics manager at Pinecape says that the low emissions and eco-friendliness of LNG were incentives for the decision.
"Climate issues are important to us and we wanted to do our own bit to help. Driving with LNG has gone really smoothly. In the long run, we're also clocking up significant savings in fuel costs compared to diesel-fuelled vehicles. We're definitely considering acquiring more LNG-fuelled vehicles," Nummela states.
Pinecape started using a Volvo FH LNG tractor unit for transport in July. Nummela would also like to see other logistics companies benefit from the expanding network of gas filling stations and start to use gas-fuelled vehicles.
"In long-distance transport you can drive as far as 1000 km on a tankful of natural gas and fuel costs are lower than for diesel. Nevertheless, there's no need to compromise whatsoever on performance and torsion in a Volvo FH LNG-fuelled truck when compared to a similar diesel-fuelled vehicle. Demand for LNG-fuelled trucks is constantly growing," says Reino Manninen, Sales Director, Volvo Trucks.
Read the article online at: https://www.lngindustry.com/liquid-natural-gas/23102019/ncs-finland-and-pinecape-start-using-lng-fuelled-vehicle/
You might also like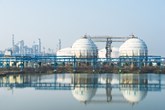 Accurate flow rate measurement during LNG liquefaction is essential. But how do you know if your flow meter can handle potential pressure drops, temperature changes, and the extreme conditions of the cryogenic process? Download Panametrics' new case study to learn how its flow meters can deliver extremely accurate LNG flow measurements.