---
"We are pleased with our Q1 2018 performance, particularly with the strong rise in gas sales, driven by consistent implementation of our customer base management strategy, robust economic growth and low air temperatures supporting gas sales. Rising oil and gas prices had a major impact on the Group's earnings. The impact was positive for Exploration and Production, but weighed on profit margins delivered by Trade and Storage," said Piotr Wozniak, President of the PGNiG SA Management Board. "We are also happy to see further diversification of gas supply sources, our strategic priority," Wozniak added.
For Q1 2018, the PGNiG Group posted revenue of PLN13.25 billion, up 14% year on year, delivering net profit of PLN1.57 billion, just under 2% less than the year before. Earnings were affected by rising energy commodity prices, for instance the 3M average of oil prices in PLN increased 4% year on year.
The consolidated EBITDA figured came in at PLN2.67 billion, down 3% year on year.
Exploration and Production
The segment's revenue, comprising chiefly sales of crude oil, gas and condensate, rose 7% year on year, to PLN1.98 billion, reflecting a global uptrend in oil and gas prices.
Year on year, E&P EBITDA remained broadly unchanged, at PLN1.38 billion.
Trade and Storage
The segment posted revenue of PLN10.21 billion, up 17% on Q1 2017, led by a 13% rise in gas sales volumes, to 1.13 billion m3. On February 27th 2018, the Group supplied a record daily gas volume of 80.4 mcm. For comparison, the average daily volume of gas supplied in Q1 2018 was 62.5 mcm.
The strong sales drove a 19% year-on-year increase in imports, to 3.84 billion m3. The Group achieved further geographical diversification of its supply sources. While in Q1 2017 gas sourced east of Poland represented 84% of total gas imports, its share fell to 78% in Q1 2018. On the other hand, LNG import volumes rose 31%, to 0.51 billion m3 of regasified LNG. During the first three months of 2018, PGNiG received four LNG cargoes at the President Lech Kaczynski Terminal in Swinoujscie. A supplementary agreement for the supply of liquefied gas signed with Qatargas in 2017 came into force, doubling the volumes of gas received by the Group from that source.
The segment's EBITDA was down 50% year on year, to PLN 179m, eroded by higher gas procurement costs.
Distribution
The segment reported a 7% rise in gas distribution volumes (of 4.22 billion m3). Revenue reached PLN1.55 billion, an increase of around 6% year on year. The solid performance was driven by stronger demand led by low air temperatures in both February and March.
The segment's EBITDA was PLN0.76 billion, up 10% year on year.
Generation
The Generation business also continued on a strong uptrend, with revenue from sales of heat and electricity up 4% (PLN0.57 billion) and 14% (PLN0.26 billion), respectively. Total revenue came to PLN =0.92 billion, having risen 7% year on year.
The segment posted a 2% year-on-year decrease in EBITDA, to PLN 0.4 billion.
Read the article online at: https://www.lngindustry.com/liquid-natural-gas/23052018/pgnig-groups-q1-2018-performance-stable/
You might also like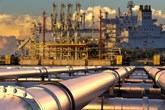 At every stage of the LNG process – from pretreatment to transportation – accurate and reliable measurements are essential for optimising production, maintaining safety, and ensuring profitability.