---
Michael Hastings, Brüel & Kjær Vibro GmbH, Denmark, examines how today's condition monitoring technology has evolved to contribute significant value to LNG production assets.
Billions of dollars will be invested in LNG infrastructure to meet growth requirements within the next few years. Even now, where there is excess LNG installed capacity, the current expansion underway will pay itself off quickly, as the consumer's market for clean-burning energy increases and even outpaces all other fossil fuel sources. This growth is not only driven by a surging consumer market, but also by technical and commercial factors that ultimately result in lower CAPEX and/or OPEX for producing LNG.
One of these cost-reducing factors is improved technology. For example, great effort is currently being expended to make production assets more thermodynamically efficient, which will result in lower operating costs. The downside to this, however, is that actions such as this can sometimes be undertaken at the expense of adding additional equipment and complexity to production. This will also have to be monitored. In other areas, the production trains are becoming larger, which results in lower production cost. Nevertheless, in this case the cost of downtime becomes more expensive if the train is unexpectedly down. Ultimately, the benefits of developing technology in either case become much more significant if the risks can be mitigated.
Regardless of the chosen course of development, machine condition monitoring will play an even more important role in ensuring uninterrupted reliable production in future scenarios. Performance monitoring of machines is already standard practice for many existing machines and larger machine sizes present no monitoring obstacles. Condition monitoring is already geared for these and other future development requirements, based on past experience of successfully dealing with existing operation and maintenance challenges.
Asset healthcare challenges today
Machines in an LNG plant, especially those involved in the liquefaction process, are subject to extreme operating conditions. The thermal expansion of a refrigerant compressor, pump or liquid expander between startup and full production at cryogenic temperatures is intense, thereby subjecting the bearings and other machine components to severe loads during startup and shutdown. Even small variations in the process can have significant effects on the overall loading of the machines. As many machines are operated at variable speeds and loads, this basically renders calculated mean-time-before-failure values for the machine components to spread out and be unpredictable.
As in many other sectors of the petrochemical industry, ensuring the reliable operation of these machines is not a trivial task – especially when considering the reduced numbers of maintenance staff and specialists onsite at plants, and the increasingly competitive nature of the industry.
Condition monitoring solutions are evolving
Very few people in the LNG industry dispute the merits of effective condition monitoring, but there is a wide disparity on what constitutes an effective monitoring solution. Some simply continue to use their legacy system without being aware that condition monitoring technology itself has evolved over the years.
However, it is now possible to detect developing symptoms from a wider range of potential failure modes earlier and more reliably than 10 years previously. In a similar fashion, diagnostics have become more accurate in assessing fault severity and establishing the need for maintenance action within an accurate timeframe. Advancing data science technology enables process data to be more readily correlated with fault monitoring data, so that diagnostics and root cause analysis can be performed faster and more accurately. Automatic fault prognostics and decision support become a reality after many years of monitoring data has been accumulated and can now be analysed by artificial intelligence (AI) and machine learning (ML).
This is an abridged version of an article that was originally published in the April 2020 issue of LNG Industry. The full version can be read here.
Read the article online at: https://www.lngindustry.com/liquid-natural-gas/23042020/cash-in-on-condition-monitoring/
You might also like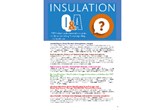 LNG Industry asked several companies to discuss some key factors regarding LNG insulation in our recent November 2023 issue of the magazine.