---
The Board of Directors of LNG Limited (LNGL) has announced its decision to re-domicile the company to the US. LNGL will proceed to list on the NASDAQ Stock Exchange following regulatory and judicial approvals and an affirmative shareholder vote.
"After continued evaluation by the Board and management team and given the company's confidence in raising new capital to fund our business and marketing efforts, we believe a US re-domiciling is in the company's best interest. This listing change is expected to benefit LNGL and its shareholders by properly positioning and valuing the company for future success," said Paul J. Cavicchi, Chairman.
Timing of the proposed re-domicile transaction, including shareholder vote at a scheme meeting, will depend upon the length of regulatory processes in the US and Australia and on availability of court dates in Australia. The company will continue to update shareholders as re-domicile milestones are completed.
"LNGL is committed to transparency and regular communication during the re-domicile process. This will ensure that all shareholders, retail and institutional, Australian, US and elsewhere, are able to make fully informed decisions," added Greg Vesey, LNGL's Managing Director and Chief Executive Officer. "At this stage we anticipate that a re-domicile transaction could be completed in late 2019 or early 2020."
The Board of Directors believes listing on the NASDAQ may deliver significant benefits for the company's shareholders including:
Aligning with LNGL's current 100% North American LNG project development and operational management focus.
Attracting and increasing awareness of LNGL with North American investors who are familiar with the LNG industry and have significant capital to deploy to such assets.
Improving valuation and better trading liquidity given the current valuations for LNGL's peers, all of which are US listed LNG companies.
Increasing the attractiveness of LNGL to potential future business partners.
Enabling demand from investors who are not able to invest in equities listed outside of the US.
Retaining and attracting outstanding talent.
The re-domiciliation process will utilise a Scheme of Arrangement under the Australian Corporations Act, pursuant to which LNGL's shareholders will exchange their securities in LNGL for securities in a newly incorporated Delaware company (Newco), once shareholder, judicial and regulatory approvals are secured. In parallel with the scheme process, Newco will file a registration statement on Form 10 with the US Securities and Exchange Commission (SEC) as an integral part of the transition to the NASDAQ. The SEC declaring the effectiveness of the Form 10 registration statement is part of Newco's requirements to obtain a listing on NASDAQ.
To assist with the transition, the company anticipates using a share sale facility (SSF) providing eligible existing shareholders an election to either sell or retain their shareholding in accordance with the scheme of arrangement, subject to the company being able to arrange the SSF on acceptable terms. Under the proposed SSF, eligible existing shareholders electing to sell their shareholdings will do so through a company-sponsored sale agent with sale proceeds remitted to the electing shareholders, free from any brokerage costs, stamp duty, or handling costs.
Read the article online at: https://www.lngindustry.com/liquid-natural-gas/22072019/lng-limited-moving-to-the-us/
You might also like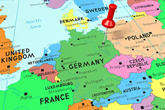 EnerMech and Offshore Technical Services have expedited the initial phase of a vital LNG import project in Germany, enhancing energy security and addressing the broader European energy crisis, with their services contributing to the successful completion of the project's construction phase at the port of Brunsbüttel.