---
Pao Novatek today released its audited consolidated financial statements for the year ended 31 December 2017; prepared in accordance with International Financial Reporting Standards (IFRS).
For the twelve months ended 31 December 2017, the company's total revenues amounted to RR 583.2 billion and Normalised EBITDA, including its share in EBITDA of joint ventures, totalled RR 256.5 billion, representing year-on-year increases of 8.5% and 5.8%, respectively. The increases in total revenues and Normalised EBITDA were largely due to an increase in average realised liquids and natural gas prices. In addition, in December 2017, after the commencement of LNG production at the first train of the Yamal LNG project, Novatek sold its first cargo of LNG to international markets.
Profit attributable to shareholders of Pao Novatek decreased to RR 156.4 billion (RR 51.85 per share), or by 39.3%, as compared to 2016. In 2016, company profit was significantly impacted by the sale of a 9.9% equity stake in Yamal LNG and by the foreign exchange differences (including at the joint ventures level). Excluding these effects, Normalised profit attributable to shareholders of Pao Novatek increased to RR 156.2 billion (RR 51.78 per share), or by 16.8%, as compared to 2016.
In 2017, natural gas sales volumes amounted to 65.0 billion m3, representing a 0.5% increase as compared to 2016, due to a slight increase in volumes sold in the Russian Federation, as well as the commencement of sales of LNG purchased from the Yamal LNG joint venture to international markets from December 2017. As at 31 December 2017, Novatek's cumulative natural gas inventory balances in the Underground Gas Storage Facilities, the Gas Transmission System, and own pipeline infrastructure totaled 1.0 billion m3 as compared to 0.8 billion m3 at the end of 2016.
Read the article online at: https://www.lngindustry.com/liquid-natural-gas/22022018/novatek-announces-consolidated-ifrs-results-for-2017/
You might also like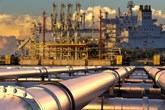 At every stage of the LNG process – from pretreatment to transportation – accurate and reliable measurements are essential for optimising production, maintaining safety, and ensuring profitability.