Wärtsilä and Crowley extend maintenance agreement for 11 articulated tug barges
Published by Joseph Green, Editor
LNG Industry,
---
The technology group Wärtsilä and Crowley Petroleum Services are continuing their co-operation by extending and expanding their maintenance agreement for 11 articulated tug barges (ATBs) owned and operated by US-based Crowley. An ATB has a hinged connection system that allows a powerful ocean-going tug to connect to a notch in the stern of the barge, which enables the tug to propel and manoeuvre the barge.
The agreement, signed in December 2017, extends the original contract term from 2019 to 2023, and covers the maintenance of 22 Wärtsilä engines installed on board 11 ATBs. With the contract Crowley receives a comprehensive maintenance package, access to prompt technical service and troubleshooting and a response time guarantee in case of unforeseen circumstances requiring immediate action. The agreement also includes performance guarantees regarding field service confirmation in time-sensitive situations. This ensures that dedicated support team can quickly address and troubleshoot problems, thus maximising the uptime of vessels. The contract is Wärtsilä's first maintenance agreement to cover complete propulsion systems, including seals and bearings.
"We are pleased to continue our co-operative arrangement with Wärtsilä," said Crowley Engineering Director Marc Aikin. "Our agreement allows us to execute carefully planned maintenance schedules, customise scopes, and achieve constant cooperation to complete our ATB dry docks on schedule, ensuring the reliability and efficiency of our vessels' operations."
"Our customers are showing increased interest in comprehensive maintenance agreements, as they allow the customers to focus on their core business. We are proud to continue our partnership with Crowley and are committed to ensuring that their maintenance needs are met efficiently," says Sean Carey, Services Unit Director, USA, Wärtsilä Services.
ATBs consist of a tank vessel (barge) and a large, powerful tug that is positioned in a notch in the stern of the barge, which enables the tug to propel and manoeuvre the barge. Unlike an ITB (Integrated Tug/Barge), where the tug and barge are locked together in a rigid connection and become for practical purposes one unit, the ATB has an articulated or "hinged" connection system between the tug and barge. This allows movement in one axis, or plane, in the critical area of fore and aft pitch. No such movement is possible with an ITB unit.
Crowley operates and manages the largest US-flag petroleum and chemical tank vessel fleet in the country. With the pending acquisition of three tankers from SeaRiver Maritime, the company will operate 40 Jones Act qualified large petroleum transportation vessels in the United States with a combined capacity of more than 12 million barrels. The company specialises in providing bulk petroleum and chemical transportation throughout the U.S. Gulf, East Coast, West Coast, and Alaska, as well as international ports.
Read the article online at: https://www.lngindustry.com/liquid-natural-gas/21032018/wrtsil-and-crowley-extend-maintenance-agreement-for-11-articulated-tug-barges/
You might also like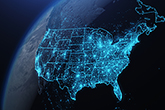 A Seapath and Pilot LNG joint venture will develop, construct, and operate a terminal in the Galveston Bay area supporting LNG-powered vessels.