---
Teekay LNG Partners has reported its quarterly results for 4Q18 and annual results for 2018.
Teekay GP L.L.C., the general partner of Teekay LNG Partners L.P. has reported the partnership's results for the quarter and year ended 31 December 2018.
Highlights
GAAP net income attributable to the partners and preferred unitholders of US$6.6 million, GAAP net income per common unit of US$0.00 and income from vessel operations of US$65.2 million in 4Q18; and US$28.4 million, US$0.03 per common unit and US$147.8 million, respectively, for fiscal 2018.
Adjusted net income attributable to the partners and preferred unitholders of US$32.6 million and adjusted net income per common unit of US$0.32 in 4Q18 (excluding items listed in Appendix A to this release); and US$87.7 million and US$0.76 per common unit, respectively, for fiscal 2018.
Generated total cash flow from vessel operations (CFVO) of US$150.1 million in 4Q18 and US$515.3 million for fiscal 2018.
Since late-December 2018, repurchased over 1.1 million common units at an average price of US$11.38 per unit for a total cost of approximately US$13 million.
Completed the financing of the Yamal Spirit LNG carrier newbuilding, which delivered and commenced its 15-year charter on 31 January 2019.
Estimated fiscal 2019 guidance for adjusted net income per common unit of approximately US$1.85 to US$2.20 and total CFVO of US$635 million to US$660 million.
CEO's comments
"Once again this quarter, our cash flows and adjusted earnings were up significantly over the prior quarter as the partnership's LNG segment grew and certain existing vessels commenced new contracts at firm rates," commented Mark Kremin, President and Chief Executive Officer of Teekay Gas Group Ltd. "This segment continued its expansion in early-2019 with the delivery of two additional newbuilding LNG carriers, including the Yamal Spirit, which delivered on January 31, 2019, soon after finalising its dedicated financing facility." Kremin continued, "With this latest financing facility now in place, we have completed all of the necessary financings to take delivery of our entire newbuilding orderbook which, at its peak, amounted to approximately US$3 billion."
"We expect our LNG segment results to be significantly higher in 2019 primarily due to the delivery of 15 newbuilding LNG carriers during 2018 and throughout 2019 as well as the start-up of the Bahrain LNG regasification terminal in 2019. Collectively, the cash flow associated with these deliveries will allow the Partnership to execute on its balanced capital allocation strategy which will see the Partnership meaningfully deliver its balance sheet over the next few years while simultaneously return significant cash flow to unitholders in the form of common unit repurchases and common unit distributions, which will increase by 36% commencing this upcoming quarter." Kremin continued, "Today, we announced fiscal 2019 financial guidance that would represent increases in adjusted net income per common unit and total CFVO ranging from 143% to 190% and 23% to 28%, respectively, compared to our fiscal 2018 results."
Read the article online at: https://www.lngindustry.com/liquid-natural-gas/21022019/teekay-lng-announces-4q18-and-2018-results/
You might also like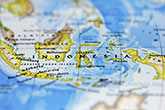 President Joko Widodo has officially inaugurated Tangguh Train 3 in Indonesia.