---
Switching to LNG is the preferred solution for shipping companies to adopt in order to meet the International Maritime Organisation's (IMO) stringent new international emissions standards for marine bunker fuels, according to the findings of a survey by Deloitte.
However, a lack of refuelling and bunkering infrastructure has been identified as the key barrier to the large scale adoption of LNG as a transport fuel.
The survey of over 80 senior energy industry leaders from across the Asia Pacific region was conducted at the second annual Deloitte Energy Trading Summit in Singapore recently.
Survey respondents cited the retrofitting and/or redesign of the existing shipping fleet to accommodate the LNG bunker fuel option as the second biggest barrier to adoption, followed by the price competitiveness of LNG versus liquid fuels. However, despite the challenges, over two-thirds (68%) said if the marine fuel market switches to LNG, it will have a positive effect on their overall business.
Bernadette Cullinane, Deloitte Global LNG leader and Australia oil and gas lead said: "LNG is particularly well placed to benefit from the IMO's emissions legislation. Our survey results are clear recognition the stricter standards will open the door for cleaner marine fuels like LNG and low sulphur marine gas oil to displace heavy fuels.
"Almost every maritime authority in the world that offers bunkering is now taking a serious look at LNG as an alternative to fuel oil. Whilst infrastructure is an issue, it is being built, and new vessels have been designed, built and are on order."
Cullinane added that with the globalisation of the LNG market, companies are actively looking at new applications and new markets for gas.
"One of the biggest opportunities for LNG over the next decade will be in transportation, particularly as a marine fuel," she said.
"This option is rapidly gaining momentum, presenting an attractive market opportunity for LNG producers.
"With competition from alternative fuels, especially renewables in the power generation space, LNG needs to develop new customer markets to absorb supply and justify investment in new production facilities.
"Transportation is a terrific opportunity for LNG suppliers to tap into a growing market. By expanding the customer base, it's a play that will help underwrite and de-risk future supply developments."
Read the article online at: https://www.lngindustry.com/liquid-natural-gas/20062018/lng-preferred-as-transport-fuel-but-lack-of-infrastructure-a-barrier/
You might also like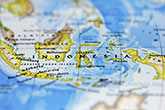 President Joko Widodo has officially inaugurated Tangguh Train 3 in Indonesia.