Pointe LNG appoints Whitehall & Co as financial advisor for LNG export project
Published by Will Owen, Editor
LNG Industry,
---
Pointe LNG, LLC has mandated Whitehall & Company as its exclusive financial advisor in connection with raising investment capital and securing offtake for the development and construction of a 6 million tpy LNG export terminal project in Plaquemines Parish, LA.
The project is expected to require up to US$4.0 billion of capital for development and construction, inclusive of approximately US$56 million of development capital.
This marks the return of the Pointe LNG team, composed of co-founders Tom Burgess and Jim Lindsay, to LNG development on this site. The Pointe LNG team had previously started development of an LNG project in this same location named Louisiana LNG Energy, LLC (LLNGE), which they sold in 2015 to a joint venture of Cheniere and Parallax. When Cheniere and Parallax did not complete development due to internal disputes, Pointe LNG was able to return to the site and resume LNG development under the name of Pointe LNG. Together with strong community support, Pointe LNG looks to leverage their prior experience at the site to finish development in an expeditious and efficient manner.
The project will be the lowest-cost greenfield LNG project built in the US at less than US$600/t due to its excellent gas supply with less than 7 miles of pipeline buildout to connect to two major haul gas pipelines (TGPL and SONAT), stable foundation requiring no dredging or soil remediation, and minimal wetlands mitigation costs.
The 600 acre site along the Mississippi River has over 9200 ft of riverfront, allowing for potential future expansion from 6 million tpy to 12 million tpy or more. The project's marine terminal and deepwater port will have over 50 ft of water depth, accommodating 270 000 m3 Q-Max LNG carriers, the largest in the world. With over 2000 ft of river width, the waterway ensures smooth shipping logistics with two-way water traffic, no congestion limits or need for tug escort, and is only 6 hours from open water. The site is well-protected from flooding by 17 ft levees on all sides maintained by the US Army Corps of Engineers.
With its low capital cost and strong site advantages, the project will be well-positioned to provide offtakers competitively priced LNG supply beginning in the mid-2020s as the 'second wave' of global LNG demand outstrips the existing LNG supply driven by the continued global move towards gas-fired generation. Tom Burgess co-founder of Pointe LNG said, "The project has the best greenfield LNG site in the United States, and we are very excited to kick off this process."
"Whitehall is honoured to have been selected by the Pointe LNG team as a partner and advisor", said Jonathan Cody, co-founder and head of investment banking at Whitehall. "In addition to being one of the most competitive projects in the market from a build cost and delivered LNG price perspective, Pointe LNG represents the best combination of project size, delivery timeframe, and execution certainty to both investors and LNG purchasers."
Financial close of the development capital portion of the transaction is targeted for 3Q20, with a final investment decision (FID) targeted for mid-2022 and entry into commercial operation in 2026.
Read the article online at: https://www.lngindustry.com/liquid-natural-gas/20052020/pointe-lng-appoints-whitehall-and-co-as-financial-advisor-for-lng-export-project/
You might also like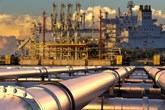 At every stage of the LNG process – from pretreatment to transportation – accurate and reliable measurements are essential for optimising production, maintaining safety, and ensuring profitability.