---
Teekay GP LLC, the general partner of Teekay LNG Partners L.P., has announced that its Board of Directors has authorised a common unit repurchase program for the repurchase of up to US$100 million of Teekay LNG's common units.
Common units may be repurchased in the open market or privately-negotiated transactions or otherwise at times and prices considered appropriate by the partnership. The timing of any purchases and the exact number of common units to be purchased under the program will be dependent on market conditions and other factors. The partnership intends to establish a trading plan pursuant to Rule 10b5-1 under the US Securities Exchange Act relating to the repurchase of its common units under the program.
The partnership also announced the outcome of the special meeting of common unitholders held yesterday. All proposals, including the proposal to allow Teekay LNG to elect to be treated as a corporation, instead of a partnership, for US federal income tax purposes, were approved by unitholders. As a result, effective 1 January 2019, Teekay LNG will be treated as a corporation for US federal income tax purposes and common and preferred unitholders will receive Form 1099s instead of Schedule K-1s relating to distributions taxable as dividends commencing in 2019. Teekay LNG will remain a master limited partnership, and all other provisions of the partnership's limited partnership agreement remain in effect.
"We believe that Teekay LNG's common units represent compelling value and repurchasing them is currently the best investment we can make as the unit price does not fully reflect the underlying value of our business, our large and diversified contract portfolio totalling US$10.6 billion of forward revenues, and the strong LNG carrier market fundamentals, which is resulting in higher cash flows for the partnership," commented Mark Kremin, President and Chief Executive Officer of Teekay Gas Group Ltd. "This new common unit repurchase program is another component of our previously announced balanced capital allocation strategy, which will see the partnership deliver its balance sheet as a priority while also providing investors with a 36% increase in ongoing distributions, commencing in 2019. This repurchase program will enable the Partnership to return some of the additional capital generated from the current strong LNG carrier market and early newbuilding deliveries to create long-term value for unitholders."
Kremin continued, "We are pleased that unitholders voted in favour of the amendment to our US tax structure effective for the 2019 taxation year as we continue to believe that this will make Teekay LNG a more attractive investment, particularly for larger institutional investors."
Read the article online at: https://www.lngindustry.com/liquid-natural-gas/19122018/teekay-lng-authorises-common-unit-repurchase-program/
You might also like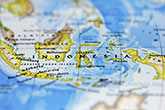 President Joko Widodo has officially inaugurated Tangguh Train 3 in Indonesia.