---
Wison Offshore & Marine has announced that its 300 MW Floating Storage Regasification and Power generation barge (FSRP) has received Approval in Principle (AiP) from Lloyds Register.
Wison's 300MW Class FSRP has been developed to produce power starting as low as 7 cents per kWh. With a total storage capacity of 170 000 m3 in GTT membrane cargo tanks, it can receive full cargoes, keeping the cost of LNG supply low. It features a high efficiency CCGT power plant, available with an output of 150 – 450 MW.
The facility is designed for near-shore deployment with a minimal waterdepth of 12 m. LNG will be loaded through a ship-to-ship transfer and regasified, feeding the gas turbines. Waste heat from the turbines is recovered to generate steam, which in turn feeds the steam turbine generator. Electric power is stepped up to high voltage before transmission to shore.
The fully integrated LNG-to-power facility is a quick and economical solution for the supply of electricity to areas with limited infrastructure and remote locations. A range of mooring solutions is available to suit site specific conditions.
A Joint Development Project (JDP) agreement between LR, Wison and GTT has also been signed. This includes the undertaking of further work for example, more detailed design reviews, support for the preparation of Wison to build GTT membrane type LNG tanks as well as possible additional items like risk assessments.
Maarten Spilker, Wison General Manager Solutions, said:
"Our integrated LNG-to-power solution is a response to market demand for affordable power sources with a short development schedule. Using proven technology as building blocks, we put together a robust design. Together with Lloyds Register, GTT and other key technology suppliers (e.g. Shanghai Electric) we will continue to mature and refine our product. High efficiency LNG fuelled floating power plants offer a unique set of advantages over other power solutions. We will be ready to deliver."
David Barrow, LR Commercial Director – Marine and Offshore commented on presenting the AiP certificate:
"LR has a unique expertise in the LNG field which is recognized by the market and which we are proud to be able to bring to this project, supporting and working in collaboration with Wison and GTT. We look forward to providing further strong technical support to the project, drawing on LR's strong track record in LNG shipping and our experience in floating LNG."
For more information view the following video from Wison Offshore & Marine:
Read the article online at: https://www.lngindustry.com/liquid-natural-gas/19092018/300-mw-fsrp-receives-aip-from-lloyds-register/
You might also like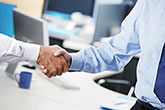 Seatrium Ltd, through its wholly-owned subsidiary, Seatrium New Energy Ltd (formerly Keppel FELS Limited), and Van Oord Ship Management BV marked the successful completion and delivery of Vox Alexia, the third dual-fuel trailing suction hopper dredger.