---
The technology group Wärtsilä and Viking Line, a Finnish ferry company, have signed an Optimised Maintenance agreement for the Wärtsilä LNGPac system onboard passenger ferry Viking Grace.
This is the first Optimised Maintenance agreement ever made for Wärtsilä LNGPac, a complete gas handling system for ships fuelled by LNG. Viking Grace was the first passenger ferry to utilise LNG as a fuel source. The agreement also includes Condition Based Maintenance (CBM) and online support for the Wärtsilä LNGPac system. Additionally, Wärtsilä extends its existing Optimised Maintenance agreement for Viking Line's Viking Grace ferry for another five years.
The Optimised Maintenance agreement, signed in late 2017, enables the planning and scheduling of Viking Grace's maintenance procedures to suit the ship owner's business operations, thus improving their long-term cost predictability. It also increases performance reliability and maximises the vessel's uptime, benefiting the vessel's owner as well as its passengers.
A new feature for the LNGPac agreement is Wärtsilä's Condition Based Maintenance system that gathers information on the average gas flow, the temperatures of the heat exchangers, the use of energy, and the pressure of the LNG pumps. The data helps in planning and scheduling the above-mentioned maintenance procedures that improve cost predictability and uptime.
Wärtsilä LNGPac is a complete fuel gas handling system for LNG fuelled ships. On Viking Grace, it comprises onboard liquid natural gas bunkering, two storage tanks, and handling equipment with related safety and automation systems that have been developed by Wärtsilä.
"Environmental considerations are, along with the need to optimise operational efficiency, high on the agenda of Viking Line," says Ulf Hagström, Senior Vice President, Marine Operations & NB at Viking Line Oyj. "Wärtsilä is a forerunner in dual-fuel and other environmentally sound technology and has repeatedly shown its excellence in technical assistance and service for Viking Line and Viking Grace. With this agreement, we will be able to utilise the full potential of Wärtsilä's knowledge and know-how."
In addition to Wärtsilä LNGPac, Wärtsilä has delivered four Wärtsilä 50DF main engines running on LNG, the transverse bow and stern tunnel thrusters, two stainless steel fixed pitch, built-up main propellers with complete propeller shaft lines and environmentally sound shaft line seal systems to Viking Grace. Since Viking Grace was taken into operation in 2013, Wärtsilä has been in charge of its maintenance. In February 2018, Wärtsilä and Viking Line agreed on the extension of the Optimised Maintenance agreement for Viking Grace, covering both CBM and online support, for another five years.
Viking Grace can accommodate 2800 passengers, and it sails between Turku, Finland and Stockholm, Sweden in the Baltic Sea.
Read the article online at: https://www.lngindustry.com/liquid-natural-gas/19042018/wrtsil-to-provide-optimised-maintenance/
You might also like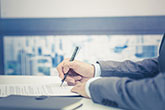 In its efforts to further boost natural gas utilisation in the country and enhance Nigeria's gas revenue, NNPC Ltd has signed two major agreements to deliver LNG to the domestic gas market and the international LNG market.