Accenture: LNG will boost Australia's economy
---
According to a new report from Accenture, Australia's LNG industry could contribute over AUS$55 billion to the country's GDP in 2020.
The new report - Ready or Not? Creating a world-leading oil and gas industry in Australia - analyses the readiness of the LNG industry to capitalise on future opportunities as it moves from construction towards production.
Improve competitiveness
In order for Australia to secure its place as the world's leading LNG producer and derive the associated benefits, there is a need to improve international competitiveness, remove regulatory constraints and introduce a more flexible labour relations regime, the report claims.
Accenture found that over the next five years, natural gas production will increase by more than 90%, the number of wells in production will increase by 400% and pipeline infrastructure in Australia will increase by 45%. Total cumulative capital investment and operating expenses will reach approximately AUS$360 billion by 2020, 40% more than the AUS$250 billion invested during the recent capital investment boom.
Additional shareholder value
Commenting on the potential of the industry, Bernadette Cullinane, Asia Pacific Managing Director for Accenture's energy industry group, said: "If operators, the service sector and government can work together to get the transition right, we estimate the industry could collectively realise an additional AUS$50 - $70 billion of shareholder value over the next 25 years – and this will have a positive impact on the whole economy.
"The speed, scale and scope of the transition is unprecedented. The industry must be ready to support and maintain safe, efficient and reliable operations for the next 40 years."
Transitional period?
The report adds that according to Australia's top tier LNG operators and service providers, the industry is well prepared in several areas for this transition. The companies surveyed for the report rated workforce capability and capacity as the highest scoring of the five readiness dimensions measured at 0.68 out of a possible 1.0, and 0.58 respectively.
APPEA acting CEO, Paul Fennelly, added: "Australia has a real opportunity to use the next few years to become a world leading LNG producer, delivering long term returns for all industry sectors. The construction phase has now peaked, and the industry is transitioning into an exciting new production and operation phase – an estimated 13 new LNG trains within seven new plants will come online between 2015 and 2018. It is imperative that everything – operations, equipment, workforce, the regulatory framework and industrial relations regime – is ready."
Areas for improvement
The report also highlights the areas that need to be improved, with competitiveness, regulatory framework and the industrial relations framework scoring the lowest.
"The research overwhelmingly highlighted that there is room for more collaboration on key services such as turnarounds and logistics, with many stating the industry hadn't done enough sharing during the construction phase. Accelerating industry collaboration and embracing innovation and digital technologies will help drive global competitiveness, attract the next wave of capital investment and transform Australia into the world's largest and leading LNG industry," Cullinane concluded.
Adapted from press release by Katie Woodward
Read the article online at: https://www.lngindustry.com/liquid-natural-gas/18052015/accenture-report-on-australian-lng-industry-769/
You might also like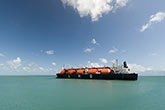 Furetank has turned a former office building into a maritime educational centre with a simulator complex for training, assessment, and certification in Donsö, Sweden.