---
Dynagas LNG Partners LP has announced that, following a strategic review of its financial profile and distribution policy, the Board of Directors of the Partnership has approved a plan to reduce the quarterly distribution on the Partnership's common units to US$0.25 per common unit from US$0.4225 per common unit, or from US$1.69 per common unit to US$1.00 per common unit on an annualised basis.
The reduction will take effect on 3 May 2018, upon the payment of the common unit distribution with respect to the first quarter of 2018 to common unitholders of record as of the close of business on 26 April 2018.
Tony Lauritzen, CEO of the Partnership, commented: "This decision by our Board of Directors to reduce the level of the Partnership's quarterly common unit distribution is necessary to align the Partnership's distribution level with its capacity to generate cash flow in the long term. Despite the material increase in the Partnership's estimated revenue contract backlog over the last two years, we have experienced a decrease in operating cash flow and a weakened distribution coverage ratio (which is our distributable cash flow available for distribution in proportion to actual cash distributed) following our shift to longer term charters for the employment of our LNG carriers, which provide us with greater cash flow visibility albeit at lower charter rates that provide attractive returns of capital."
"As the Partnership's shorter duration time charter contracts at peak charter rates have expired or are approaching expiration, we have capitalised on our manager's operational track record and the versatility of the ice class LNG carriers in our fleet to secure long term employment contracts. During the last two years, the Partnership has been successful in securing a ten year contract for the employment of our 2007 built LNG carrier, Ob River, two fifteen year contracts for the employment of our 2013 built LNG carriers, Yenisei River and Lena River, an eight year contract for the employment of our 2007 built LNG carrier, Clean Energy and a three year contract for the employment of our 2013 built LNG carrier, Arctic Aurora. Today our average remaining contract term is 10 years and our estimated contracted revenue backlog is approximately US$1.5 billion, which highlights our ability to secure long-term contracts in periods when the LNG shipping market has been highly competitive."
Lauritzen added: "The Partnership's Board of Directors believes that the new distribution level is in the best interest of the Partnership's common unitholders as it aligns the Partnership's cash flows with our cash payment obligations. The new distribution level is expected to provide the Partnership with approximately US$24.5 million in annual cash savings in order to enhance our liquidity, strengthen our balance sheet and improve our distribution coverage ratio. Although our pro-forma 2018 distribution coverage ratio is expected to be below 1x, we believe the new distribution level is viable on an actual cash basis since it reduces the Partnership's current need to utilise existing cash reserves to fund distributions to unitholders. Strengthening the Partnership's financial position will also enable us to focus on growth projects, including the acquisition of LNG carriers from our sponsor or from third parties which, if consummated, would be expected to improve our distribution coverage ratio to above 1x. Since our initial public offering in November 2013, the Partnership has paid total cash distributions on our common units of US$6.79 per common unit. We will remain focused on delivering value to our unitholders."
Read the article online at: https://www.lngindustry.com/liquid-natural-gas/18042018/dynasgas-lng-partners-lp-reduces-quarterly-distribution/
You might also like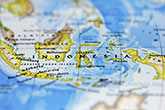 President Joko Widodo has officially inaugurated Tangguh Train 3 in Indonesia.