The Damen Yichang Shipyard in China has announced it will roll out an increased portfolio of vessels to a wider market audience, including LNG and LPG tankers.
The company, which is a joint venture between Damen Shipyards Group and Sinotrans CSC, has had a successful history of delivering cargo vessels since commencing operations in 1999.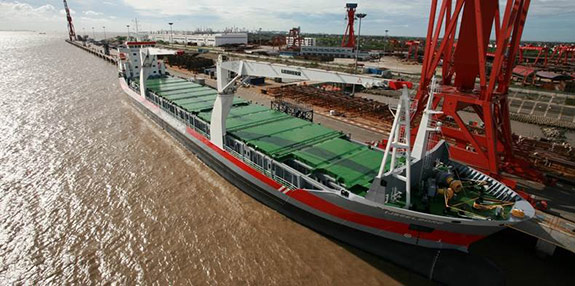 High-tech vessels
Hans Voorneveld, Executive Director of Damen Shipyards Group, commented: "Over the years we have achieved a good reputation for delivery time, reliability and quality. The Yichang yard has always excelled in the construction of cargo vessels up to 15 000 DWT. Whilst it will continue to build such vessels, from now on, there will be an additional focus on other, high-tech vessel types.
"We're looking at dredgers, pontoons and barges, LNG/LPG tankers and offshore support vessels, such as platform suppliers."
Since the decision was made to increase the range of vessels offered, the yard has already started to construct a number of specialised pontoons, and plans for dredgers are now being finalised. Additionally, a finalisation of plans for LPG tanker construction is expected imminently.
Global reach
The yard expects the expansion of its product portfolio to widen its geographical reach. Until now, Damen Yichang Shipyard's cargo vessels have aimed for the Western European marketplace. "Already we are building pontoons for specialised projects in the Far East and Latin America, as well as for stock. The dredgers also have an international market," Voorneveld explained.
Current capacity at the yard is sufficient for Damen to simultaneously construct ten pontoons along with two dredgers, LNG/LPG tankers or offshore support vessels.
Infrastructure expansion
Damen and Sinotrans are investing in developing the building and design process for complex vessels at the yard. However, pre-existing infrastructure has already enabled it to embark on this new venture: "Everything is already in place, the yard is completely up and running. There's an experienced workforce of around 1000 personnel," Voorneveld added. "We have been building high quality vessels at Damen Shipyards Yichang for a long time, this is more about adjusting the organisation to new products."
Voorneveld highlighted the yard's steel cutting facilities, six available berths for section building and assembly and a sideways launching system. He concluded: "Damen Yichang Shipyards is offering a new portfolio of sophisticated vessels in one integrated package – from engineering, steel building, outfitting and trials right through to commissioning."
Adapted from press release by Katie Woodward
Read the article online at: https://www.lngindustry.com/liquid-natural-gas/18032015/damen-shipyard-expands-vessel-offering-440/