---
The 'Global Floating Storage Regasification Unit (FSRU) market 2018 – 2022' report has been added to ResearchAndMarkets.com's offering. Some of the findings of the report can be found below:
The FSRU market will register a CAGR of over 9% by 2022.
The stabilisation of crude oil prices to drive growth in the market
Crude oil prices from 2014 to 2016 have witnessed fluctuations with steep variations in the price of crude oil per barrel, even though the market did not observe any reduction in the quantity of crude oil supplied across the globe.
The volatility of crude oil prices affects the entire value chain as well as exploration and production (E&P) activities as these activities are solely dependent on the profitability of the industry.
Cost competitiveness of FSRU
An FSRU uses a hybrid ship for the transportation of LNG from its source of production to different regions across the globe. These ships offer a solution to the shortage of fuel and help in meeting the power requirements across various end-users.
Growth in number of alternatives
These alternative techniques of LNG transportation are used mainly for offshore storage and transportation purposes.
Read the article online at: https://www.lngindustry.com/liquid-natural-gas/18012019/fsru-global-market-outlook-2018-2022-report-released/
You might also like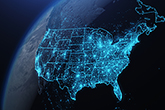 A Seapath and Pilot LNG joint venture will develop, construct, and operate a terminal in the Galveston Bay area supporting LNG-powered vessels.