---
Reuters are reporting that China's shale gas production will likely reach 17 billion m3 in 2020, nearly double the 2017 level, as local oil companies make big progress with drilling technology and cost cutting, consultancy Wood Mackenzie said.
Nearly 700 new wells will come onstream between 2018 and 2020 at three key projects – Sinopec's Fuling, and PetroChina's Changning-Weiyuan and Zhaotong – all located in the country's southwest, and at a total cost of US$5.5 billion, Woodmac estimated.
The forecast 17 billion m3 of output in 2020 falls short of Beijing's goal of 30 billion m3, which was slashed by more than half from the government's initial target set in 2012.
That means the world's third largest gas user will need to keep its imports of LNG at elevated levels. Woodmac has separately forecast China's LNG imports will increase by a quarter to nearly 49 million t this year, from record highs in 2017.
China produced 9 billion m3 of shale gas last year, or 6% of its total gas output.
"China is eager to materialise its shale gas potential to fuel its massive gasification initiative and support rising demand growth," said Wood Mackenzie's Tingyun Yang.
Despite estimates that China is home to the world's largest recoverable shale gas resource, its shale formations tend to be deeper, more fractured and located in densely populated mountainous terrains, leading to higher costs and complications in drilling.
However, state companies have managed to reduce well costs significantly – by 40% for exploration wells versus 2010 and 25% for commercial wells versus 2014 – by deploying local service companies, home-manufactured equipment and improving drilling technologies, said Yang.
Explorations and joint studies by global majors such as Shell, BP, Exxon and Total at Chinese shale blocks have yielded little success.
Shell, which pledged billions of dollars of investment in China's shale sector, pulled out of shale operations in Sichuan several years ago.
Read the article online at: https://www.lngindustry.com/liquid-natural-gas/17042018/china-shale-gas-output-to-nearly-double-over-3-years/
You might also like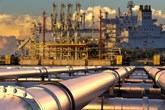 At every stage of the LNG process – from pretreatment to transportation – accurate and reliable measurements are essential for optimising production, maintaining safety, and ensuring profitability.