LNG - 17 February 2021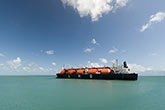 Growing demand for WinGD's market leading X72DF inspires launch of four new engine options.
The Ministry of Non-Renewable Natural Resources of Ecuador has granted SYCAR approval to trade natural gas, LNG, and CNG for the industrial market in Ecuador.
JAPEX has announced a partial resumption of operations at the Soma LNG regasification terminal following an earthquake in the region.