---
Aaron Stephenson, Cheniere, USA, explains the importance of driving efficiency through debottlenecking and optimisation.
For any industry – LNG included – just getting off the ground and running is a huge task. One major key to long-term success, however, both as a company and as an industry, is finding efficiencies.
Amazon, UPS, McDonald's and Tesla are all great examples of companies that worked to identify areas to become more efficient and, as a result, more successful. From supply chain management to assembly line production, putting in the time, money and effort to identify opportunities to improve, reduce waste and perform better is the secret formula to optimal performance.
Cheniere has found efficiencies in its own assembly line through the construction of multiple LNG production units (trains) at two sites over the last seven years. Recently, the company has conducted the next phase in efficiency discovery – reducing waste and performance enhancement – through its debottlenecking project.
Debottlenecking, an industry term for discovering and optimising limits on production, solves many of the technical restraints on production. However, this is only half the story, as true production optimisation also involves process improvements, such as management of intervals between maintenance activities. In Cheniere's case, it is all done while the company is safely operating the plants for customers who depend on their LNG being ready.
LNG in the US
With an increased demand around the globe for reliable and affordable power from a cleaner energy source, and an abundant supply of natural gas in the US, LNG offers a practical solution to global energy requirements. Responding to that demand, numerous LNG projects have commenced in the last few years, especially in the US, including the Sabine Pass Liquefaction Project, Corpus Christi Liquefaction Project, Cameron LNG, Freeport LNG, Cove Point LNG and Elba Island LNG. Notably, Cheniere has completed seven trains in seven years, an average of approximately seven months ahead of schedule.
The next stage for these projects, and indeed for the industry, is to seek improvements that do three main things: increase production; reduce emissions intensity; and preserve reliability. That combination will help push the LNG industry forward in a global race to provide new energy.
This is an abridged version of an article that was originally published in the January 2020 issue of LNG Industry. The full version can be read here.
Read the article online at: https://www.lngindustry.com/liquid-natural-gas/17012020/driving-efficiency/
You might also like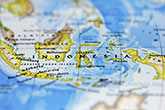 President Joko Widodo has officially inaugurated Tangguh Train 3 in Indonesia.