---
Mike Sicker and Shunichi Kuba, Mitsubishi Heavy Industries America, USA, explain why the application of two-shaft industrial gas turbine technology is ideally suited for large scale mechanical drive applications.
The liquefaction of natural gas has received front and centre attention in today's global oil and gas market, as oil majors and developers alike rush to fill the looming supply gap which has been forecasted to arrive in the early to mid-2020s. The race to reach final investment decision (FID) requires many complex and critical decisions involving key areas, such as process technology, equipment selections, production volumes and plant configurations, all of which are deeply linked to the owner/operator's expectation of future market demand and developed economic models, which they hope will ultimately lead them to a successful FID.
From the outset, developers of the next wave of LNG plants will need to choose an economic model that fits their goals and strategy while embracing the uncertainty of shifting contractual changes in offtake agreements and destination restrictions.
Until recently, oil majors and established operators relied primarily on the 'stranded gas' or 'resource-based' model when developing proven gas reserves, which, as the name indicates, were typically not located near existing pipelines or buying markets. In the stranded gas model, LNG is priced based on the value of the gas at market destination and FID decisions are reached once a substantial number of long-term commitments from buyers are secured. However, today, with the emergence of abundant US shale gas and a pipeline infrastructure to transport gas from wellhead to shipping port, developers and operators are now able to consider a 'cost plus' economic model, which de-links the entire LNG value chain and allows them to focus only on the segment of the value chain which they can control: the actual liquefaction of natural gas.
Regardless of the economic model being considered, the selection of rotating equipment used in the liquefaction process will have a significant impact on the profitability of an LNG plant in terms of overall economies of scale, purchase price, efficiency, power density, complexity, reliability and long-term maintenance costs.
Two-shaft industrial gas turbine technology
The Mitsubishi Hitachi Power Systems' (MHPS) two-shaft H-100 industrial gas turbine was introduced in the Japanese power generation market in 2010 when the Japanese power providers were seeking a higher efficiency replacement for their aging industrial gas turbine fleet. Driven by practicality, MHPS took on the challenge of developing a large scale two-shaft gas turbine replacement in order to address the unusual reality of Japan being the only country in the world with two distinct power grids: the eastern side of Japan, which operates on 50 Hz; and the western side, which operates on 60 Hz. Although small scale two-shaft industrial gas turbines have existed for years, the H-100's two-shaft design allowed the machine to be deployed in either market: the H-100 (50 Hz) operating at 3000 rpm; and the H-100 (60 Hz) operating at 3600 rpm.
This is an abridged version of an article that was originally published in the September 2019 issue of LNG Industry. The full version can be read here.
Read the article online at: https://www.lngindustry.com/liquid-natural-gas/16092019/fit-for-purpose/
You might also like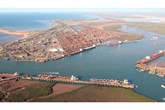 Pilbara Clean Fuels, Oceania Marine Energy, and RINA join forces in a collaboration to develop a low-carbon LNG production and marine bunkering concept in Port Hedland, Australia, aiming to change the maritime industry's environmental impact.