---
Air Products has announced that it has signed two gas production and delivery agreements with Sonatrach – the largest state-owned oil and gas company in Africa.
The deals have a combined value of US$100 million, and were executed through both companies' joint venture (JV), HELIOS. Under the terms of the agreement, Sonatrach will recover helium from two existing LNG facilities (GL1Z and GL3Z), and that helium will then be delivered to HELIOS' existing liquid helium plant in Arzew. The HELIOS plant is an important part of Air Products' total global helium source portfolio, and the new feedstock will increase the amount of liquid helium produced by the JV plant.
Walter Nelson, vice president and general manager–Global Helium at Air Products, said: "The potential for helium production in Algeria is significant thanks to its large, established natural gas industry and LNG operations.
"Connecting the HELIOS plant to Sonatrach's other LNG facilities in Arzew is a further illustration of how unlocking Algeria's helium potential can further diversify the helium supply chain and improve the reliability of supply for customers in Africa and Europe."
According to the statement, another important component of the agreements is that Air Products will design and build two new air separation plants in Algeria, which HELIOS will then own and operate. One will be in the Hassi Messaoud District, whilst the second one will be Arzew. Once in operation, these plants will produce nitrogen, oxygen and argon, which will be supplied to the Algerian and Maghreb markets through Sonatrach's subsidiary, COGIZ.
Ahmed Hababou, vice president, Southern Europe and Maghreb, at Air Products, said: "Underpinned by our strong relationship with Sonatrach and successful track record of execution, Air Products has built a solid platform in Algeria from which to grow.
"We are very pleased to make our investments jointly with Sonatrach and build on the success of our partnership in HELIOS. These latest agreements show our continued commitment and willingness to invest in the Algerian industrial gas market, bringing greater competitiveness, security of supply and enhanced service to our customers."
These latest agreements are part of Sonatrach's 2030 vision for growth. This includes an investment programme valued at several billion dollars to expand Algeria's energy sector and infrastructure.
Abdelmoumen Ould KADDOUR, President and CEO of Sonatrach, said: "Delivering these industrial gas production projects with our renowned international partner, Air Products, is a key part of Sonatrach's diversification strategy. It will allow us to better value our resources and provide us with secure and reliable industrial gases to meet our needs and those of our customers."
Since entering the market more than 40 years ago, Air Products has built a strong foundation in Algeria. The company's proprietary process technology and main cryogenic heat exchangers are in operation at Sonatrach's LNG facilities in Skikda and Arzew, with both facilities making up a large portion of Algeria's LNG exports.
Read the article online at: https://www.lngindustry.com/liquid-natural-gas/15112018/air-products-and-sonatrach-sign-gas-production-and-delivery-agreements/
You might also like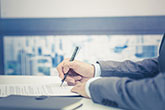 QatarEnergy has signed an agreement with HD Hyundai Heavy Industries for the construction of 17 ultra-modern LNG carriers.