---
Cameron Murray, Arnlea, UK, outlines how LNG operators can implement digital transformation, considering asset management issues and hazardous inspections.
For LNG operators, the requirement for regular, methodical inspections of hazardous areas and the related asset management and maintenance that goes with it, is an everyday fact of operational life.
Driving these inspections are the competing and parallel needs for compliance with industry regulatory requirements – sometimes national, international, or global in nature – health and safety standards, operational efficiencies, asset integrity, human resource management, and productivity, for which a high calibre set of reports is usually also required.
There can be literally thousands of different items that need to be inspected. Some of these are offshore, and some are onshore. They require hundreds of working hours to locate, inspect, record, collate, and report on. This information is the lifeblood of operational life for any LNG operator or contractor because this is where dollars are saved or wasted; people are either productive or caught up in repetitive tasks that can feel meaningless.
Having meaningful information allows managers and senior executives to understand more fully what is happening on the ground, where people are working well, where assets are enduring or failing, and how the life of a specific LNG plant, terminal, or vessel can be extended or otherwise.
Specifically, there are also responsibilities incumbent upon operators because of ATEX directives and IEC 60079 standards. These standards and directives are a series of explosive atmosphere standards and must be considered for any and every component used in hazardous areas found within the LNG workplace.
Traditionally these inspections have been undertaken manually. Even today, many operators are still using pen and paper, printouts, and clipboards to conduct inspections and create the subsequent maintenance orders that inevitably follow. These inspection reports are then written up and collated to be analysed by another team, who often have to interpret the data according to each inspector's own opinion of the condition of the items they have reviewed.
Other businesses are using spreadsheets, often Excel and pivot tables to compile the inspections in a more organised fashion and produce reports that are easier to understand and quicker to compile. Despite these being a step up from pen and paper (and they are), they have not got the capacity to integrate with ERP/EAM systems, SAP, or IBM Maximo, which are used across the LNG industry and most other industries worldwide.
This is an abridged version of an article that was originally published in the October 2020 issue of LNG Industry. The full version can be read here.
Read the article online at: https://www.lngindustry.com/liquid-natural-gas/14102020/out-with-the-old/
You might also like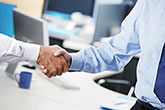 Commonwealth LNG has bolstered its management ranks with the addition of George Nemeth as Chief Commercial Officer, and Dan Fleischer as Senior Vice President, Finance.