MISC reports 'stable performance' from LNG and Petroleum segments
Published by Will Owen, Editor
LNG Industry,
---
MISC has announced its results for the financial period ended 30 June 2020.
Financial highlights:
Group revenue and operating profit for the quarter and 6 months period ended 30 June 2020 was higher than the corresponding quarter and 6 months period ended 30 June 2019.
The Group recorded a net loss for the current 6 months period ended 30 June 2020, mainly due to the provisions and impairment loss recorded in 1Q20 relating to the adverse decision on arbitration proceedings by Gumusut-Kakap Semi-Floating Production System (L) Ltd (GKL) against Sabah Shell Petroleum Company Limited (SSPC). The Group also recorded impairment loss on its Heavy Engineering's asset in the current quarter in light of the current oil and gas downturn, COVID-19 pandemic, and the expected prolonged recovery of the industry.
Group cash flow generated from operating activities for the period ended 30 June 2020 was higher than the corresponding period ended 30 June 2019.
CEO comments:
MISC's President & Group Chief Executive Officer, Yee Yang Chien said, "We recorded a stable performance contributed largely by the LNG and Petroleum segment for the second quarter, notwithstanding the global harsh blows of the unprecedented COVID-19 pandemic. Despite the strenuous market environment, we remained steadfast to our earnings resiliency and will continue to pursue markets which are pivotal to the built up of our sustainable income."
"As we move on to the next quarter with a firm and steady steer, MISC will continue with the completion of projects and expenditure optimisation across the Group. Most important for us now is that we keep a tight grip on our policies and practices on safety and health for our personnel across the globe; be it at sea or shore as their wellbeing remain as our top priority. We will not ignore reality and depart from the fact that the months to come will be challenging but we must persevere and remain optimistic on the development of many strategic initiatives that we have set out to achieve," Yee added.
Read the article online at: https://www.lngindustry.com/liquid-natural-gas/14082020/misc-reports-stable-performance-from-lng-and-petroleum-segments/
You might also like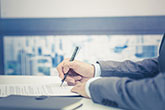 QatarEnergy has signed an agreement with HD Hyundai Heavy Industries for the construction of 17 ultra-modern LNG carriers.