---
The Petroleum Safety Authority Norway (PSA) has completed its investigation of the LNG leak in Equinor's Hammerfest LNG plant at Melkøya on 17 June 2018. Several breaches of the regulations have been identified.
This leak occurred during loading of a road tanker at the gas liquefaction facility. The PSA decided on 18 June 2018 to investigate the incident.
The direct cause of the LNG escape was that a valve on the cold flaring line in the road tanker from Barents Naturgass (BNG) had been left in the open position when loading was completed at the plant's truck filling station.
Attention in the PSA's investigation has concentrated on Equinor's handling of the incident.
Actual consequence
The actual consequence of the incident was an LNG escape to the environment. Its volume is estimated at about 996 kg, with an initial rate of 0.06 kg per second. The leak is judged to have had small environmental consequences. The incident caused no material damage or production shutdown.
Potential consequences
A gas and dispersal analysis shows that the leak from the road tanker could, under marginally different circumstances, have been ignited. In that event, the road tanker driver could have suffered third-degree burns in the space of 2 to 3 seconds.
Causes of the incident
The investigation has shown that the direct cause of the incident was the failure to close a valve during verification of the liquid level in the road tanker.
The underlying causes are related to the method used to prevent overloading of the tanker.
Nonconformities and improvement points
The PSA investigation has identified two nonconformities. These comprise:
Deficient knowledge about and updating of operating documentation.
Design weaknesses in the system for overloading prevention and deficiencies in ignition source control.
Three improvement points have furthermore been identified. These comprise:
Lack of follow-up of BNG.
Lack of clarity over who should evacuate in the event of a factory alarm.
The clock in the emergency response centre showed the wrong time.
What happens next
The PSA's investigation is now completed. The investigation report has been sent to Equinor, which has been asked to explain how the nonconformities will be dealt with. It has also been asked to provide its assessment of the improvement points which have been observed. The company has been given until 24 January 2019 to respond.
Read the article online at: https://www.lngindustry.com/liquid-natural-gas/13122018/report-of-investigation-into-hammerfest-lng-leak/
You might also like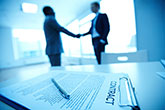 OMV has announced the signing of a long-term sale and purchase agreement with Cheniere Energy, Inc., covering the supply of up to 850 000 tpy of LNG beginning in late 2029.