---
Bloomberg are reporting that Nigeria is taking its first steps to expand its LNG capacity by a third, outlining a US$12 billion program to help it keep up with the world's biggest producers of the fuel.
Nigeria LNG, a venture involving the state-owned oil company and three oil majors, signed engineering and design contracts for a seventh facility the nation's Atlantic coast. Among the contractors participating are Saipem SpA, TechnipFMC Plc and Chiyoda Corp. A final investment decision could be taken late this year.
Nigeria is joining nations from the US to Australia in increasing output of the fastest growing fossil fuel to help meet rising demand from China to the Middle East. Its latest plan would boost production to 30 million t by 2024 from 22 million tons now. Total SA, a Nigeria LNG shareholder, said the plant expansion is "very important" as the market is "booming again."
"Our vision is to be a global player that helps to build a better Nigeria," Tony Attah, Nigeria LNG's chief executive officer, said in London. "We are looking forward to the growth. When I am talking about growth I am talking about Train 7. We have the support we need, we have the support from the shareholders, from the government, from the board of directors."
Qatar, Australia and the US will probably account for 60% of global LNG supply by 2023, according to the International Energy Agency in Paris. Nigeria, which supplied the world with 7% of the super-chilled fuel last year, does not want to miss out.
Keeping up will require a huge investment. Train 7 will cost as much as US$6.5 billion to build, with another US$5 billion to be spent on wells and pipelines needed to supply the plant. Nigeria LNG is seeking US$7 billion from the global financial markets for sustainability of its operations and the expansion.
The project is "the gas revolution" in Nigeria after the expansion has been stalled for many years under previous administrations, Nigeria's President Muhammadu Buhari said in a statement. Nigeria LNG had planned to set up 12 trains by early 1980s, with only six commissioned so far.
Nigeria needs to invest in new production to avoid slipping from the 4th to the 10th position by 2025 in the ranking of global LNG exporters, Attah said. On 11 July, the company signed front-end engineering and design contracts with two consortia of engineering companies. The work will take about eight months, Guido D'Aloisio, managing director of Saipem Contracting Nigeria Ltd., said.
Global LNG demand will increase by 72% between 2017 and 2030.
"The big growth is coming from China," Anne-Sophie Corbeau, head of gas analysis at BP Plc's group economics team, said. "India has a lot of potential as well," in terms of demand.
Nigeria supplied 24 countries with LNG in 2017, up from 21 in 2016, according to GIIGNL, an industry body for importers.
Nigeria LNG says its customers already have agreed to take additional volumes from the new plant, though contracts setting out the terms haven't yet been signed. Once those contracts are finalized, the company will be in a position to make a FID maybe by December, Attah told reporters. The company is ready to discuss the flexibility that buyers are seeking in pursuit of shorter, competitive and less rigid terms of supply, he said.
"This is a very historical moment for us, we have made efforts to do Train 7 since 2007," Attah said. "The most important factor is that we are ready and we believe it is time."
Nigeria LNG is a joint venture between the Nigerian National Petroleum Corp., Royal Dutch Shell Plc, Total SA and Eni SpA.
Read the article online at: https://www.lngindustry.com/liquid-natural-gas/12072018/nigeria-takes-first-step-in-us12-billion-lng-expansion-plan/
You might also like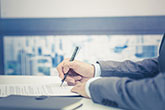 QatarEnergy has signed an agreement with HD Hyundai Heavy Industries for the construction of 17 ultra-modern LNG carriers.