---
Reuters are reporting that Bangladesh announced two major energy deals on 11 July, with a total US$5.8 billion investment, two involving US company General Electric.
Nearly 30% of Bangladesh's population do not have access to electricity. The country relies on its gas resources for 70% of its energy production but as demand has risen its supply has struggled to keep up and the country is now becoming an LNG importer.
One of the joint ventures unveiled on Wednesday is a partnership between US General Electric, Japan's Mitsubishi Corporation and local privately-owned Summit. They will set up and invest US$3 billion in a 2400 megawatt (MW) thermal power plant and related oil and LNG terminals, the companies said.
Summit, will have a 55% share of the joint venture while Mitsubishi will take 25% and GE 20%.
"In partnership with Summit Power, our HA (gas turbine) technology enables unprecedented levels of efficiency to strengthen Bangladesh's power generation," Russell Stokes, president and chief executive officer of GE Power, said at the deal signing in Dhaka.
The project involves four thermal units of 600 MW each, a 380 000 m3 capacity LNG terminal and oil terminals with 100 000 t capacity.
The three firms signed a memorandum of understanding (MOU) on 11 July.
Muhammad Aziz Khan, chairman of the Summit Group, said the plan is to launch the project next year and complete it by 2023.
"The project will be using the world's most efficient and environment friendly technology," he said.
"We have joined in this tripartite agreement with the widest experience in infrastructure and energy," said Tetsuji Nakagawa, senior vice president of Mitsubishi.
Later in the day General Electric and state run Bangladesh Power Development Board (BPDB) announced another venture to produce 3600 megawatts of electricity.
Saiful Hasan Chowdhury, a director of the BPDB said that a joint venture would establish a 3600MW LNG to gas based combined cycle power plant and associated LNG import terminal and related infrastructure.
"This will cost US$2.8 billion and BPDB as lead partner will invest 51% while GE will invest 30% and the remaining 19% stake will be invested by a strategic partner," he said.
"Over the years, GE has demonstrated a strong willingness to partner with both the private and public sector here in Bangladesh to boost power generation," said US Ambassador to Bangladesh Marcia Bernicat at a signing event.
She said that the US, as Bangladesh's largest foreign direct investor and export market remains committed to building a strong commercial relationship with Bangladesh.
Read the article online at: https://www.lngindustry.com/liquid-natural-gas/12072018/bangladesh-unveils-us58-billion-energy-investment/
You might also like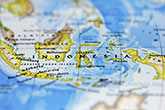 President Joko Widodo has officially inaugurated Tangguh Train 3 in Indonesia.