Navigation simulation supports design for Tangguh LNG expansion
Published by Will Owen, Editor
LNG Industry,
---
Work has commenced to expand the Tangguh LNG plant in Indonesia, which has been operated by BP Berau Ltd since 2009. The addition of a third train will increase liquefaction capacity of LNG by 3.8 million tpy, which will lead to an expansion of the marine export facility and construction of a second LNG jetty.
McConnell Dowell Indonesia, who are conducting the detailed design and construction of the jetty, commissioned HR Wallingford to conduct ship navigation simulation studies, to inform the suitability of the jetty design.
As part of the design process for the jetty, HR Wallingford undertook a combined fast time and real time ship navigation simulation study. These two elements were used to examine all of the navigation aspects of the Tangguh LNG expansion project, including navigation to and from the second jetty, towage requirements, limiting environmental operational conditions, anchorage areas, and safety exclusion zones.
The first element of the work, the fast time simulation, used HR Wallingford's Ship Simulation System running in fast time mode. This is used to assist in the design of relatively straight channels. The study focused on the channel and approaches to the new jetty, and examined a number of classes of LNG carriers and condensate tankers.
The second element, the real time navigation simulation, which used a full mission bridge simulator, focused on the final approaches and the turning manoeuvres, where real time simulation is a more reliable tool. In preparation, HR Wallingford's expert flow modellers constructed a 2D hydrodynamic model of the area. This was then validated against in-situ flow measurements which had been carried out prior to the study.
The real time navigation simulation session was conducted at HR Wallingford's Australia Ship Simulation Centre in Fremantle, Western Australia. A local Tangguh Pilot and HR Wallingford's Staff Pilot, manoeuvred the ships in the final approaches to the virtual second jetty, using up to 4 x 55 t bollard pull tugs.
Note: If you want to keep up-to-date with the latest LNG developments, start your free trial to LNG Industry magazine today.
Design Manager for McConnell Dowell, Fabien Cogordan, said: "Being able to take advantage of HR Wallingford's fast time simulation meant that we could conduct over 8000 channel transits, equivalent to over 25 years of vessel calls to Tangguh, in a matter of minutes of computer processing time. Combining this with the real time navigation simulation, provided us with a cost-effective and flexible tool to evaluate and confirm the suitability of the jetty design".
Dr Mark McBride, HR Wallingford Ships Group Manager, said: "The HR Wallingford Ship Navigation Simulation System has been specifically designed for port design and ship operations' applications, and our full bridge, real time manoeuvring simulators can be used for pilot and tug master training as well. We're delighted to have been able to apply our knowledge to a project like this in Indonesia, which will have a significant impact on the industry and the local economy."
The marine construction EPC contract was awarded to CSTS, a consortium consisting of Chiyoda, Saipem, Tripatra, and Suluh Ardhi Engineering. Construction of the third train is now underway, which will bring the total plant capacity to 11.4 million tpy of LNG, with first production from the third train expected during 2020.
Read the article online at: https://www.lngindustry.com/liquid-natural-gas/12062018/navigation-simulation-supports-design-for-tangguh-lng-expansion/
You might also like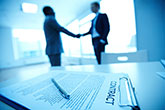 OMV has announced the signing of a long-term sale and purchase agreement with Cheniere Energy, Inc., covering the supply of up to 850 000 tpy of LNG beginning in late 2029.