---
Leslie C. Krusen, Alaska Gasline Development Corp., USA, provides an update on the status of the Alaska LNG project, outlining some of the challenges faced and innovative technologies employed.
The Alaska LNG project is making progress, with authorisation from the Federal Energy Regulatory Commission (FERC) granted in May 2020. The project will be constructed and operated in arctic and sub-arctic territory, and features numerous innovations that are designed to improve compatibility with a sensitive cold-climate environment, while simultaneously improving project competitiveness and safety. This article describes some of the significant aspects and innovations of the project's liquefaction facility and associated gas treatment facility.
Project summary and status
The Alaska LNG project has received authorisation from the US Department of Energy (DoE) to ship 20 million tpy of LNG for 30 years to markets in the Asia-Pacific region, and will supply natural gas to Alaskan utilities and industries. The project will commercialise the estimated 35 trillion ft3 of known gas on Alaska's North Slope, and consists of the following three major facilities:
A three-train gas treatment plant (GTP), located on the North Slope. Highlights of the GTP will be included in this article, since the GTP conditions the liquefaction facility's feed gas, similar to the process units located at the front of conventional LNG plants.
A 42 in. × 807 mile pipeline with eight compressor stations, connecting the GTP to the LNG plant while delivering gas to in-state users.
An LNG plant (LNGP) with three liquefaction trains, two LNG storage tanks, and a two-berth marine terminal, located near Nikiski, Alaska, and with marine access to the Cook Inlet. The LNGP's marine terminal and its use of cryogenic pipe-in-pipe (PiP) was described in the February 2020 issue of LNG Industry, hence the marine terminal will only be briefly mentioned in this article.
The Alaska LNG project has completed the FERC authorisation process. The project's environmental impact statement (EIS) was issued in March 2020, and FERC authorisation was announced in May 2020, ahead of schedule. Alaska Gasline Development Corp. (AGDC) has considerably 'de-risked' the project (through its success in achieving to gain the EIS and associated authorisations, rights-of-way, and major permits), and is actively seeking to enrol the participation of Alaska North Slope gas producers and others to further develop the project.
This is an abridged version of an article that was originally published in the June 2020 issue of LNG Industry. The full version can be read here.
Read the article online at: https://www.lngindustry.com/liquid-natural-gas/11062020/alaska-lng-an-update/
You might also like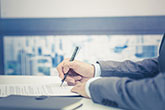 In its efforts to further boost natural gas utilisation in the country and enhance Nigeria's gas revenue, NNPC Ltd has signed two major agreements to deliver LNG to the domestic gas market and the international LNG market.