Croatia acts to cut red tape for LNG terminal project backed by EU
Published by Will Owen, Editor
LNG Industry,
---
Reuters is reporting that, in order to aid the construction of an EU-backed LNG terminal project in the northern Adriatic, the Croatian government has proposed a special law.
The law, which will help untangle property issues and other factors, is planned to pass through parliament with approval in an urgent procedure. However, the project still faces local opposition that voices concern about the terminal's environmental impact.
The opposition has taken the form of staged several protests and legal action against the project is also being considered. Nonetheless, the Croatian energy and environment ministry continue defend the project; stating that it is does not pose a significant threat to the environment.
Note: If you want to keep up-to-date with the latest LNG developments, start your free trial to LNG Industry magazine today.
The new law envisages construction of the terminal on the island of Krk in two stages, the first involving a floating terminal followed by a land-based facility.
"It is in Croatia's interest to ensure fast implementation of this project," the state secretary in the energy ministry, Mile Horvat, told a cabinet session. "The law, among other things, regulates property issues and concession fees to municipal authorities for using maritime domains."
The European Union see the facility as an opportunity to help diversify sources of supply and reduce dependence on Russian gas. As a result, Brussels will invest €101.4 million euros (£88.5 million), or 28% of the project's assessed value.
The floating terminal is expected to start operations in 2020.
Read the article online at: https://www.lngindustry.com/liquid-natural-gas/11052018/croatia-acts-to-cut-red-tape-for-lng-terminal-project-backed-by-eu/
You might also like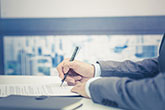 QatarEnergy has signed an agreement with HD Hyundai Heavy Industries for the construction of 17 ultra-modern LNG carriers.