Wärtsilä delivers power plant on fast-track to help Bahamas power and light improve system reliability
Published by John Williams, Editorial Assistant
LNG Industry,
---
The technology group Wärtsilä has been contracted to deliver a power plant to the Commonwealth of Bahamas.
The 132 MW engine power plant has been ordered by the local utility, Bahamas Power and Light (BPL), on a full engineering, procurement, and construction (EPC) basis. The plant will be delivered as a fast-track project as it is due to go into commercial operations in the end of summer 2019. This will greatly assist BPL in improving grid reliability on the island. The order has been recognised over the past few months, with the last portion received in the first quarter of 2019.
The plant will operate on seven Wärtsilä 50 engines. It will be fuelled primarily with LNG when it becomes locally available, but can in the meantime operate on conventional heavy fuel oil. The operational flexibility of the plant, which will be capable of reaching full output from start-up in a matter of minutes, will facilitate the introduction of increased levels of renewable energy into the system. The Wärtsilä engines provide an effective balancing role, ensuring system stability to offset the inevitable fluctuations in supply from wind and sun, preparing for the deployment of large scale renewables on the island.
The installation will be in BPL's existing Station A on the island of New Providence, which is being stripped of all of its current slow speed reciprocating engines to make room for the new Wärtsilä generating sets. Delivery of the Wärtsilä plant is scheduled for summer 2019.
"BPL is on a parallel path to install additional generating capacity as quickly as possible in order to meet demand, and to replace our existing temporary generating assets. We have selected highly efficient Wärtsilä prime movers that are suitable for the Bahamas environment, and which have the flexibility to be upgraded to burn natural gas when LNG becomes available on the island of New Providence. We are convinced that as a technology leader in energy efficient engine solutions and as an experienced EPC contractor, Wärtsilä will meet our expectations for this project," commented Mr Whitney Hastie, CEO of BPL.
"Wärtsilä is delighted to be selected by BPL to take on this challenging project. This will be our first major EPC project in the Bahamas, and we look forward to meeting BPL's tight delivery schedule and their expectation for reliable and efficient additional power generation," said Edmund Phillips, business development manager, Caribbean, Wärtsilä energy business.
Read the article online at: https://www.lngindustry.com/liquid-natural-gas/11032019/wrtsil-delivers-power-plant-on-fast-track-to-help-bahamas-power-and-light-improve-system-reliability/
You might also like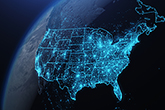 A Seapath and Pilot LNG joint venture will develop, construct, and operate a terminal in the Galveston Bay area supporting LNG-powered vessels.