Australia achieves record gas production
---
Australia achieved record gas and petroleum production in 2014, according to new statistics released by EnergyQuest.
However, the data also points to a more challenging environment in 2015 as the oil price slump and uncertainty over east coast gas pricing may have a negative impact on investors.
Fall in gas reserves
Adding to the negative outlook of the sector, which has now written off more than $8 billion in asset impairments by early 2015, was a fall in the country's gas reserves.
Australia's gas reserves replacement – a comparison of how much is produced against how much is found – proved disappointing over 2014. Reductions in the Gunnedah Basin, Cooper Basin and John Brookes contributed to the decline in proved and probable (2P) gas reserves exceeding production.
EnergyQuest's CEO, Dr Graeme Bethune, explained that the past and current year was a "mixed bag of gains and losses".
Gas and LNG production
"Australian domestic gas production increased by 2.0% in 2014 to a record 1134 petajoules (PJ), 2014 production of LNG was a record 24.7 million t and total 2014 oil and gas investment was only slightly below the record levels of 2013 - $4.2 billion exploration spending and $57 billion development spending (36% of national private new capital expenditure)," Bethune said.
Oil production
Australian oil production increased by 18.1% in 2014 to 84.3 million barrels due to the restart of the Vincent oil field in Western Australia, higher production from Pyrenees, Western Australia, Bass Strait, Victoria (due to the Turrum field) and Montara, WA and the start-up of Balnaves, WA.
Petroleum production
Australian petroleum production was 6.0% higher in 2014 at a record 544.7 million barrels of oil equivalent. Overall, petroleum production reached record levels and spending on new LNG projects continued at elevated levels as new projects near completion.
Bethune noted that the slump in the oil price had cast a pall over the new LNG achievements, such as the first seven shipments from the BG Group's new Queensland Curtis Island LNG (QCLNG) project in Gladstone. It has also created widespread uncertainty for those in the industry who have worked to establish a new Australian LNG frontier.
Gas demand slump forecast
"It is not only the oil price, however, that is creating challenges. Use of gas is facing challenges in many countries. China was seen as the big opportunity for LNG, a bottomless pit of gas demand to reduce pollution. However, the iron laws of economics apply in China as they do everywhere else and higher Chinese gas prices are reducing growth in demand.
"We expect that demand in the Australia's domestic gas market will actually fall, with the Australian Energy Market Operator suggesting higher prices will reduce east coast demand by around 200 PJ by 2020. Unlike oil, gas has numerous substitutes, making demand extremely sensitive to price," Bethune continued.
East coast gas prices
"An important question for 2015 is whether and how the fall in oil prices and LNG prices may affect Australia's east coast gas market, particularly its pricing. The east coast is now connected to international markets so it is inconceivable that lower international oil and gas prices would have no impact on the domestic market. East coast gas will no longer be immune to downward pressures on global oil prices."
Bethune added that the historic theories were that a company could make more money from selling gas for high prices in Asia than by selling it domestically.
"That is no longer the case. Oil-linked LNG prices have fallen with the oil price and LNG spot prices have fallen even further. This takes some of the pressure off demand for local gas for Australia's new LNG plants. It also reduces the price expectations of LNG producers and their ability to pay for local gas.
"At the same time, the fall in gas-use for power generation also takes pressure off the domestic market. In EnergyQuest's view, our conclusion from all of these emerging market factors is that east coast domestic gas prices are still going to be higher than historically - but more like $6-7 per gigajoule (GJ) rather than $9-10/GJ and will be driven by cost of production."
The price call was based on the assumption that domestic gas supplies are available, Bethune stated.
Brisbane gas prices lower than expected with LNG start-up
EnergyQuest's March report also described the expectation that the start of LNG east coast exports would see a dramatic impact on east coast gas prices as "an anti-climax".
"The average gas price in the Brisbane short term trading market in the first eight weeks of 2015 was below those in the same period in 2014, notwithstanding the start-up in LNG exports.
"Prices are likely to remain volatile but we expect that substantial volumes of ramp gas will continue to be available until QCLNG Train and GLNG Train 1 and APLNG Train 1 start production, around mid-year," Bethune concluded.
Source: EnergyQuest
Edited from source by Katie Woodward
Read the article online at: https://www.lngindustry.com/liquid-natural-gas/11032015/australia-achieves-record-gas-production-400/
You might also like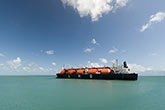 Furetank has turned a former office building into a maritime educational centre with a simulator complex for training, assessment, and certification in Donsö, Sweden.