Monkey Island LNG CEO featured as keynote speaker at Energy Summit
Published by Will Owen, Editor
LNG Industry,
---
Laguna Beach resident and CEO of Monkey Island LNG, Greg Michaels, was featured as a keynote speaker at the Wilson Family Office Energy Summit.
The exclusive summit focused on current day energy topics ranging from exports of US LNG, where Mr. Michaels' US$6.5 billion project was highlighted, to new technological advancements in renewable energy. The Energy Summit took place at the Houston Club, Houston's premier business and social club, whose members comprise of influential business and cultural leaders, including former President George Bush and former First Lady, Barbara Bush.
The Energy Summit was hosted on 2 November by one of the largest family office associations in the industry. Operating for more than 10 years, the Wilson Family Office Club has more than 1500 family offices registered and manages more than US$1 trillion in assets. The Energy Summit consisted of panel discussions, networking sessions, and keynote speakers to provide focused information to its members on the lucrative investment opportunities emerging in the energy industry and what's in store for investors in 2017 and beyond.
During the summit, Mr. Michaels educated the Family Office community about the importance and need for natural gas globally, and the benefits of natural gas as a clean burning fossil fuel that works as an excellent partner with renewable energy. He further discussed the global demands for this clean and abundant US energy source and the exciting future of exporting US natural gas via LNG. The current administration's America First Energy Plan places natural gas as a key component to the United States being a dominant energy producer.
Mr. Michaels also took time to speak about the company's US$6.5 billion CapEx LNG export project being developed in the US Gulf Coast on Monkey Island in Cameron Parish, Louisiana. The project has an all-in cost, including financing, of US$8.1 billion. The Monkey Island LNG project will export 15.75 tpy of LNG which is equivalent to approximately 2.1 billion ft3/d of natural gas. The project will bring over US$110 billion in revenues over its first 25 years of operations back to the US economy. "Natural gas via LNG is part of a global initiative to transition from dirty fossil fuels to clean burning natural gas," Mr. Michaels explained. "Our low-cost LNG export facility will have a direct and positive impact on the global environment by delivering clean and sustainable energy to nations around the world at a price they can afford."
The response from the Family Office community, including many investors seeking new opportunities, regarding the Monkey Island LNG project and US LNG exports was overwhelmingly positive. Richard Wilson, CEO and founder of the Wilson Family Office Energy Summit conference, explains, "After hearing 30 energy investors on stage at the Family Office Club's Energy event last week, it was obvious that everyone who commented on natural gas was bullish on the space, and that the US being a net exporter of natural gas and the opportunity to ship LNG was a dramatic shift that only happens once every decade or two in the energy space."
The Monkey Island LNG executive team is privately raising the first US$35 million of US$150 million for development of their LNG project. The Monkey Island facility has received an export authorisation from the US Department of Energy and is expected to reach Final Investment Decision in the 4th quarter of 2020, at which point the facility will begin construction and provide thousands of local and statewide construction-related jobs. Once operational, the Monkey Island LNG facility will support over 24 000 jobs across the US and will create hundreds of well-paying and well-needed permanent jobs to the community of Cameron Parish, Louisiana.
Read the article online at: https://www.lngindustry.com/liquid-natural-gas/10112017/monkey-island-lng-ceo-featured-as-keynote-speaker-at-energy-summit/
You might also like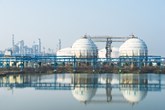 Accurate flow rate measurement during LNG liquefaction is essential. But how do you know if your flow meter can handle potential pressure drops, temperature changes, and the extreme conditions of the cryogenic process? Download Panametrics' new case study to learn how its flow meters can deliver extremely accurate LNG flow measurements.