SCT&E LNG CEO to attend trade mission to Panama
---
Greg Michaels, CEO and Chairman of SCT&E LNG, has been invited to attend the Louisiana Business Development Trade Mission to Panama during the week of 12 – 17 October.
Organised by the Louisiana District Export Council in conjunction with the Louisiana Committee of 100 and the US Commercial Service, the Trade Mission in Panama is a strategic opportunity to foster new business opportunities and enhance partnerships between Panama and the United States.
Panama Canal expansion
As a delegate, Michaels will observe firsthand the progress of the Panama Canal expansion, a US$ 5.25 billion project that will double its capacity and allow passage of post-Panamax vessels. Michaels has a keen interest in the passage of LNG vessels through the canal and will hold meetings and discussions with Panamanian officials regarding such.
During the Trade Mission in Panama, Michaels will meet with government officials, industry professionals, and business leaders to promote the US$ 9.2 billion SCT&E LNG liquefaction project to be built on Monkey Island, in Cameron Parish, Louisiana.
LNG shipments
SCT&E LNG plans to ship LNG through the canal via large ocean going LNG vessels, thus making this Panama Trade Mission an important and timely event. The Mission forum will advance and expand connections with potential off-takers of LNG by providing business-to-business introductions, meetings and networking with selected foreign participants as well as extensive market access.
While visiting in Panama's favorable business climate, Michaels will meet with prospective investors interested in the US$ 9.2 billion liquefaction project. His itinerary will also include meetings regarding potential electrical generation projects and LNG terminals in the region.
Adapted from press release by Katie Woodward
Read the article online at: https://www.lngindustry.com/liquid-natural-gas/10102014/ceo-to-attend-trade-mission-to-panama-1580/
You might also like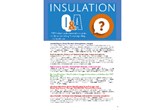 LNG Industry asked several companies to discuss some key factors regarding LNG insulation in our recent November 2023 issue of the magazine.