---
According to Energias Market Research, the small scale LNG market is expected to witness a CAGR of 2.81%, and is projected to reach US$43.5 billion by 2023.
Factors propelling the growth of small scale LNG market are growing global natural gas reserves, favourable gas prices and stricter emission regulations. Further, flexible supply volume; growing demand from marine, heavy-duty trucking, rail and high-horsepower industrial equipment tends to support the growth of the small scale LNG market.
The report segments the small scale LNG market by Type (Liquefaction Terminal (Onshore, Offshore), Regasification Terminal (Onshore, Offshore)), by Storage Tank (Pressurised (Spherical, Bullet), Atmospheric (Flat, Bullet), Floating Storage), by Supply Mode (Shipment & Bunkering, Trucks, Rail Tanks, Pipeline, Others), by Application (Transportation (Marine, Road, Mining), Off-grid power generation, others), by Region (North America, Europe, Asia-Pacific, Rest of the World (RoW). The report studies the global small scale LNG market over the forecast period (2017 – 2023).
Small scale LNG infrastructure include plants having a capacity less than 1 million tpy and carriers or vessels with a LNG storage capacity less than 30 000 m3. LNG supply chain includes consolidated infrastructure from terminal and bunker vessels to the end users such as power and transportation industry. The LNG from the source is shipped to regional hub terminals. These import terminals facilitates the use of LNG in domestic market as well as the re-export of LNG to nearby markets. Further, the LNG in the domestic market is regassed and piped to the customers or distributed through trucks and container vehicles in the remote areas.
Note: If you want to keep up-to-date with the latest LNG developments, start your free trial to LNG Industry magazine today.
Key findings of the global small scale LNG market report:
The small scale LNG market is expected to reach at a capacity of 324 million tpy by 2023.
Onshore regasification terminals occupy the largest market share in terms of volume. The construction of number of onshore regasification terminals would drive the growth of onshore regasification small scale LNG market.
Offshore regasification terminal has the highest growth rate during the forecast period. The growth is supplemented by the increasing number of FSRU.
By supply mode, shipment and bunkering segment is expected to grow at a significant rate. The changing regulatory affairs pertaining to the emission in the marine transportation drives the growth of this segment.
The transportation segment is expected to garner the majority share of the small scale LNG market. Factors such as clean fuel, environment regulations, low cost of LNG fuel and government incentives propel the growth of transportation segment.
The off-grid power generation segment of small scale LNG market is expected to grow at the highest CAGR in the years to come. The existence proper LNG infrastructure in place, need to maintain low air quality, higher fuel efficiency and low capital cost will pent up the demand of small scale LNG in off-grid power segment.
Geographically, Asia-pacific dominates the small scale LNG market. The underdeveloped large scale gas infrastructure and increasing demand of LNG in LNG-to-power projects is driving the growth of small scale LNG in the region.
Europe is the second largest small scale LNG market. Europe is capitalising on developing LNG fuelling infrastructure inland as well as across the shore to make LNG economically viable.
Companies are forming associations to develop solutions related to small scale LNG business and working towards promoting low carbon economy. For instance Wartsila has come in agreement with French company Engie to develop services and solutions related to small scale LNG businesses.
Engie will invest around US$112 million to develop small scale LNG and CNG trucking infrastructure across Europe by 2020.
In February 2017, Gazprom signed an agreement with Avtodor to develop a network of LNG and CNG filling stations in Russia. Gazprom is developing small scale LNG infrastructure in Vietnam, China, Belarus and Bolivia.
Read the article online at: https://www.lngindustry.com/liquid-natural-gas/10092018/small-scale-lng-to-witness-cagr-growth-in-2017-2023/
You might also like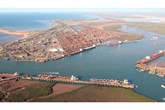 Pilbara Clean Fuels, Oceania Marine Energy, and RINA join forces in a collaboration to develop a low-carbon LNG production and marine bunkering concept in Port Hedland, Australia, aiming to change the maritime industry's environmental impact.