---
AirSep Corporation, a Chart Industries company based in Buffalo, has announced the debut of a new Nitrogen Generator product line.
AirSep now offers stationary two-bed Standard PSA Nitrogen Generators, Modular Membrane-based, and PSA Nitrogen Generators in an expandable, cabinet-mounted configuration, as well as containerised, shipboard options. Self-contained and turnkey cylinder refilling systems are also available.
AirSep Membrane and PSA Nitrogen Systems produce nitrogen from an independent compressed air source. All of AirSep's Standard PSA Nitrogen Generator models are equipped with a NEMA 4 HMI, colour touchscreen control panel with an integrated oxygen monitor, offering control and monitoring flexibility. The touchscreen features diagnostic capabilities and Ethernet access for remote monitoring of process parameters. Other highlights include, alarm notifications via email, data logging, and automatic recovery.
Craig Dillworth, General Manager of AirSep Nitrogen Products stated, "AirSep's Nitrogen Systems utilise the highest performing, non-cryogenic gas separation media technologies available to the industry."
AirSep will target the major markets such as oil and gas/power generation, food/beverage packaging, and several others. Nitrogen is used extensively in the oil and gas industry for drilling operations, blanketing, inerting, and displacement. In modified atmospheric packaging (MAP), the use of nitrogen gas maintains and extends the shelf life of various foods and beverages. AirSep offers advanced, cost-effective, reliable, and safe nitrogen sources for today's diverse nitrogen applications.
Read the article online at: https://www.lngindustry.com/liquid-natural-gas/09112017/airsep-release-new-nitrogen-generator-product-line/
You might also like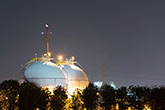 Gate terminal B.V has selected VINCI Construction Grands Projets – Entrepose Contracting, Sener, and Sacyr Proyecta to execute the expansion of the terminal with a fourth LNG storage tank.