---
Thomas Liles, Rystad Energy, Norway, discusses Canada's potential as a global LNG player.
The October 2018 sanctioning of LNG Canada represents potentially the largest private sector investment in Canadian history and augured a boon for western Canada's struggling natural gas industry. Despite the final investment decision's (FID) positive effect on industry sentiment, however, the prospect of additional large scale LNG sanctioning on Canada's west coast appears unlikely in the near-term, thus putting Canada's potential role as a global LNG player in question.
The case for Canadian LNG
The abundance of low-cost natural gas resources in the Western Canadian Sedimentary Basin (WCSB) underpins Canada's potential as an LNG exporter. The WCSB has witnessed steady natural gas supply growth since 2012, when annual production hit a low of approximately 13.1 billion ft3/d. An increase in horizontal drilling and multi-stage hydraulic fracturing in unconventional resource plays drove an approximately 4.2% compound annual growth rate in gas production between 2012 and 2018, more than offsetting declines in conventional gas output over the same period.
The Montney play, which spans northwest Alberta and northeast British Columbia (B.C.), and the Spirit River tight formation in Alberta's Deep Basin have been particularly instrumental to western Canada's supply picture, and together accounted for an estimated 55% of the basin's 2018 gas production. Likewise, both plays exhibit competitive breakeven prices and cost structures, with 50 – 60% of Montney and Spirit River proved plus probable (2P) gas reserves breakeven prices of less than US$2 per 1000 ft3.
Simultaneously, in-basin infrastructure bottlenecks and depressed benchmark prices have amplified the need to diversify export markets. Against the backdrop of supply additions, takeaway constraints have become especially pronounced on the TransCanada-owned NOVA Gas Transmission Ltd (NGTL) system, which is the primary intra-basin network connecting supply sources upstream of James River to demand centres and export points in Alberta. Export optionality to eastern Canada and the US Midwest decreased following 2014 capacity reductions to approximately 4.4 billion ft3/d – 4.6 billion ft3/d at the East Gate delivery point on the Alberta-Saskatchewan border. Similar constraints emerged at West Gate in early 2016, which has current capacity of approximately 2.5 billion ft3/d and links Alberta to export markets in the US Pacific Northwest. Meanwhile, the Alliance Pipeline maintains stable out-of-basin capacity of approximately 1.6 billion ft3/d with little potential for near-term expansions, whereas the Enbridge-owned Westcoast system in B.C. accounts for approximately 1.1 billion ft3/d in exports from the basin via Huntingdon.
This is an abridged version of an article that was originally published in the April 2019 issue of LNG Industry. The full version can be read here.
Read the article online at: https://www.lngindustry.com/liquid-natural-gas/08042019/o-canada/
You might also like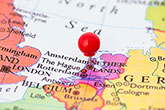 VTTI and Höegh LNG have signed an agreement to jointly explore options to develop and operate Zeeland Energy Terminal, the Netherlands.