---
Zion Market Research has published a new report titled "LNG Bunkering Market by Vessel (Tankers, Container Ships, Bulk & General Cargo Vessels, and Ferries & Offshore Support Vessels), by Product Type (Portable Tanks, Ship-to-Ship, Port-to-Ship, and Truck-to-Ship): Global Industry Perspective, Comprehensive Analysis and Forecast, 2017 – 2024."
According to the report, global LNG bunkering market was valued at approximately US$397.70 million in 2017 and is expected to generate revenue of around US$11.9 billion by the end of 2024, growing at a CAGR of around 59.4% between 2018 and 2024.
Report summary:
Growing number of vessels using LNG owing to the need for cleaner fuels in compliance with the stringent government regulations in order to reduce chemical emissions and maintain sustainability is the main driver that is boosting the growth of the LNG bunkering market. International Maritime Organisation (IMO) in 2012, expressed that boats must reduce their sulfur content in fuel from 4.5% to 3.5% in order to reduce air pollution. Different end-users have started replacing the conventional and traditional fuels because of two reasons. First, to reduce the emission of greenhouse gases into the atmosphere and the second factor is the cost-effectiveness. Nowadays, people are substituting natural gas with LNG because it is economical and cheaper. Also, LNG has high combustion effectiveness, it is easy to redeploy and because of its lower volume density, LNG is relatively easier to transport. This has prompted the widespread response of LNG across over different enterprises, prompting dispatching of different new LNG plants around the world, thus making an exceedingly favorable market for LNG bunkering.
Moreover, formulating rules and standards are driving structural growth in the uptake of LNG as a shipping fuel. These regulations are implemented through the IMO's International Convention for the Prevention of Pollution from ships. Certain regions have likewise assigned stricter emission rules. Other than air quality measure, the IMO is additionally introducing devices to monitor, screen, and substantially reduce GHG (Greenhouse Gas) emissions from ships. Such factors are expected to drive the LNG bunkering market growth over the forecast period.
Note: If you want to keep up-to-date with the latest LNG developments, start your free trial to LNG Industry magazine today.
The LNG bunkering market is segmented on the basis of the vessel which includes tankers, container ships, bulk & general cargo vessels, and ferries & offshore support vessels. Ferries and off-shore support vessels segment held major revenue share in 2017. The growth is attributed due to offshore exploration, sea trade, and production activities happening across the globe. This crucial factor will drive the growth of the market.
Based on product type, LNG bunkering market has been categorized into portable tanks, ship-to-ship, port-to-ship, and truck-to-ship. Ship-to-Ship is expected to contribute a significant revenue share in the coming years. The growth is because ship-to-ship operations are feasible for all types of vessels and because of feasibility; it has advantages such as transfer operations in ship-to-ship can be done quickly and it has a high capacity of storage which is approximately 800 – 7500 t.
Europe held substantial revenue share of the global LNG bunkering market in 2017 and the region is anticipated to continue with its regional supremacy over the forecast time period. The growth of this regional market is attributed because Norway is considered to be the biggest bunking center, as it offers more than 18 000 LNG bunk stations. Additionally, rising uncertainties for limiting the natural effect and expanding ventures towards reconstructing and updating LNG foundation is foreseen to additionally support the development of LNG bunkering market in Europe. In 2017, the European Union (EU) states affirmed the European Commission's proposition of contributing US$24.18 million to create productive and supportable transportation for LNG bunkering.
Asia Pacific region is predicted to provide significant opportunities for LNG bunkering. The region is a manufacturing hub. Because of this, the manufacturing and production activities in this region have a demand for energy. As indicated by International Energy Agency, the energy demand from Southeast Asia from 2000 to 2013 had expanded by more than 50%. The Oceanic and Port Authority of Singapore reported of investing capital of US$1.45 million for construction of six vessels under a program in 2017, in order to examine the strategies for activities and security conventions which are required for LNG bunkering. Such initiatives are anticipated to drive LNG bunkering market growth in the Asia Pacific region over the forecast timeframe.
North America is predicted to hold a significant share in the market growth during the forecasted time period. The growth is anticipated due to ongoing shale production and its development with strict emission rules which are being set by the government. This will enhance the market growth in the region.
Read the article online at: https://www.lngindustry.com/liquid-natural-gas/07082018/global-lng-bunkering-market-to-reach-us12-billion-by-2024/
You might also like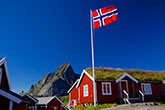 Equinor has announced that the gas leak that occurred at the Hammerfest LNG plant at Melkøya on 31 May 2023 has been stopped and normalisation is under way.