---
Tushar Patel, Atlas Copco Gas and Process, looks at the growing small scale LNG market and the key role that compressors have to play in ensuring its optimisation.
In an era of new challenges and tighter regulations, the LNG market is growing at an unprecedented rate. Both production and consumption continue to climb as the market demands power that balances affordability with environmental responsibility.
Today's LNG has two primary uses: as a fuel replacing diesel in vehicles and carriers; or for power generation. Both uses are expanding as industries seek better alternatives.
Whether their motivation is environmental, regulatory or economic, industries that evaluate LNG are looking for ways to minimise initial CAPEX and long-term OPEX.
Many industries that have long used compressed natural gas (CNG) are switching to LNG, which takes up 600 times less volume than CNG. Since CNG takes up so much more space, transporting it is expensive. Therefore, CNG plants must be geographically closer to their final consumers. Making the switch to LNG can overcome these limitations, while significantly reducing transport costs.
Similarly, the International Maritime Organization's (IMO) MARPOL 2020 rule further caps the sulfur content of marine fuel, forcing ships to switch to cleaner fuels like LNG. As a result, the marine industry is repurposing older carrier vessels as floating storage and regasification units (FSRUs). This conversion process avoids decommissioning older vessels, and can be completed at half the cost and commissioning time of building a new vessel.
But while LNG has already proven itself, many producers are now realising the benefits and competitive advantage of a small scale approach to LNG production. Large scale plants must remain close to a shoreline where they can load to a ship, but small scale LNG plants can ship from wherever production is. Companies can build multiple smaller, more agile small scale LNG plants that offer flexibility in a fast-changing market.
Small scale LNG plants can serve many applications, including transportation hubs for long-haul vehicles; railroads to remote commercial and residential heating networks; and cost-effective, standalone power generation in remote locations, peak shaving plants and virtual pipeline systems that deliver energy to off-grid customers.
Making small scale massive with a 27 MW compressor
Atlas Copco Gas and Process recently developed a 27 MW mixed refrigerant compressor (MRC) with the smallest footprint of its kind for an LNG plant with a 2 million Nm3/d capacity. This single MRC helps cool down natural gas so it can be converted to LNG.
The 27 MW compressor is built with integral gear technology that is engineered to deliver more refrigeration duty in the smallest possible space.
The plant is now better optimised, with improved efficiency that includes 84% overall compressor efficiency and 99.8% reliability, resulting in minimised downtime. The plant was able to save CAPEX without compromising OPEX, all because of the efficiency and maintenance gains delivered by integral gear technology.
This is an abridged version of an article that was originally published in the May 2019 issue of LNG Industry. The full version can be read here.
Read the article online at: https://www.lngindustry.com/liquid-natural-gas/06052019/a-small-fortune/
You might also like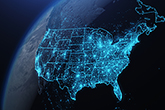 A Seapath and Pilot LNG joint venture will develop, construct, and operate a terminal in the Galveston Bay area supporting LNG-powered vessels.