Canada to ramp up export projects
---
Liquefied natural gas (LNG) export proposals in Canada are at a critical development stage, with British Columbia premier Christy Clark recently meeting with Chinese energy leaders to discuss investment opportunities.
Opportunities for exports of LNG from Canada's west coast are critical to the country's economic prosperity. As such, the issues were recently addressed during the first ever 'Canada LNG Export Forum', held in September in Calgary. During this conference, international and national oil and gas operators, investors, stakeholders, aboriginal leaders and engineering contractors met to debate the main issues of Canada's new export potential.
After consultation with state governments and major LNG investors, a follow up forum next year will look to discuss the latest commercial and technical opportunities and challenges, with a focus on the promotion of LNG export projects and in establishing strategic partnerships.
The organisers of the second annual 'Canada LNG Export Forum' - which will include both a major international conference and exhibition - have announced that it will take place between 16th and 18th September 2014, in Calgary.
'Tremendous buzz'
Damian Howard, commercial strategy director for the event, commented: "Never has there been a more timely opportunity for the global commercial and technical LNG communities to come together at one of the world's largest energy hubs to forge partnerships and do business. With potentially two or three Canadian LNG export projects at final investment decision (FID) stage come September 2014, there is a tremendous buzz right now with project proponents and governments pushing ahead to get projects underway.
"The addition of an exhibition in 2014 will enable the service industry to engage with the technical community who will be working directly on these projects, and also provide a strategic opportunity to meet face-to-face with the main decision makers who are looking to bring the proposed projects to fruition and bring Canada to the fore as one of the world's leading LNG suppliers," Howard added.
Adapted from press release by Katie Woodward
Read the article online at: https://www.lngindustry.com/liquid-natural-gas/05122013/canada_ramps_up_lng_projects_537/
You might also like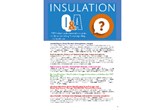 LNG Industry asked several companies to discuss some key factors regarding LNG insulation in our recent November 2023 issue of the magazine.