---
Winterthur Gas & Diesel (WinGD) and Hyundai Heavy Industries (HHI) Group have signed an agreement to integrate their advanced digital technologies to provide greater insight and benefit to ship owners from their engine and ship data.
This collaboration will provide shipping companies with extensive digital knowledge allowing them to reduce the ship's operational cost while providing insight on how to operate the ship and its engine more efficiently. Through their combined expertise HHI and WinGD will be able to offer enhanced customer understanding and support, to ensure quick and accurate responses to challenges related to engine and ship operations.
WinGD developed the Engine Diagnostic System (EDS) for creating valuable insight from engine and ship data. The EDS provides continuous, intelligent-diagnostics of the engine and component performance. This allows a ship's operator to be alerted prior to an alarm signal with the goal of scheduling necessary maintenance to improve safety and to avoid unscheduled engine interruptions.
In 2017, Hyundai Heavy Industries Group presented INTEGRICT-Smart Ship Solution, its proprietary technology capable of realising economical and reliable navigation and management of ships. The solution standardises ways of navigation varying depending on levels of skills and experiences of navigators, collects and analyses real-time information on navigations, and thus will play a role in enhancing efficiency and safety of ships.
The collaboration between HHI Group and WinGD maximises the benefits of the HHI INTEGRICT Smart Ship Solution by integrating the deep analysis of the smart engine diagnostic from the WinGD EDS.
Carmelo Cartalemi, General Manager, Business Development at WinGD said: "The shipping industry is constantly looking for new and efficient solutions to improve profitability through reduced operating costs. Recent progress in Information and Communication Technology and the availability of robust digital solutions are creating new opportunities within the marine industry.
"The integration of HHI's ISS and our EDS creates the possibility to access even more detailed data analysis by drawing on the core competencies of both companies, leading to unique and highly valuable insights."
"We believe that ship operation can be further improved through a smart ship solution. With WinGD we have the possibility to access deeper insights from the main engine. Combined with our ISS intelligence this offers our customers a level of knowledge and understanding of their ship that is unparalleled." added Heung Won Seo, Research Director, HHI.
HHI and WinGD will continue to collaborate to develop further tailor-made technologies to support ship owners throughout the lifetime of their fleet operations.
Read the article online at: https://www.lngindustry.com/liquid-natural-gas/05032018/wingd-and-hhi-sign-collaboration-agreement/
You might also like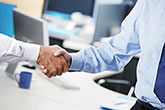 Seatrium Ltd, through its wholly-owned subsidiary, Seatrium New Energy Ltd (formerly Keppel FELS Limited), and Van Oord Ship Management BV marked the successful completion and delivery of Vox Alexia, the third dual-fuel trailing suction hopper dredger.