---
Exxon Mobil Corporation has announced that it is providing US$1 million for the humanitarian relief effort in Papua New Guinea to assist communities affected by a powerful earthquake and aftershocks in the country's Highlands area.
"We are deeply saddened by the devastation this earthquake has brought to Papua New Guinea," said Darren Woods, chairman and chief executive officer. "Our highest priority remains the safety and security of people in the Highlands community. It's our hope that our contributions of funding, equipment, and other support will provide some relief in a very challenging situation."
ExxonMobil is assisting national and international aid agencies and relief organisations with rapid response community assessments. The company is sourcing tarpaulins, water purification tablets, water containers, food, and other humanitarian supplies, and is working with essential service providers to pre-position and distribute resources to areas in the greatest need. ExxonMobil is also helping to reestablish reliable communications, providing phones to relief agencies and organising community meetings.
"In response to the prime minister's immediate state of emergency, we have committed to deploying our expertise and resources to aid recovery efforts in the wake of this natural disaster," said Andrew Barry, managing director of ExxonMobil PNG. "We are working closely with the National Disaster Centre, aid agencies and our community partners to determine where best to direct our resources."
Read the article online at: https://www.lngindustry.com/liquid-natural-gas/05032018/exxonmobil-to-assist-with-earthquake-relief-efforts/
You might also like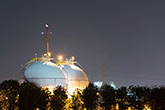 Gate terminal B.V has selected VINCI Construction Grands Projets – Entrepose Contracting, Sener, and Sacyr Proyecta to execute the expansion of the terminal with a fourth LNG storage tank.