Shell bunkers Sovcomflot LNG-fuelled tanker in the Port of Amsterdam
Published by Will Owen, Editor
LNG Industry,
---
Shell has delivered its first ship-to-ship bunkering of LNG from its specialised LNG bunker vessel, Cardissa. This operation marked a number of other firsts, as it fuelled the Sovcomflot vessel Gagarin Prospect, the world's first LNG-powered Aframax tanker. It was also the first ship-to-ship LNG bunkering to take place in the Port of Rotterdam.
The fuelling of the Gagarin Prospect with LNG is the first operation under the LNG fuel supply agreement between Shell and Sovcomflot signed in 2017. This pioneered the expansion of LNG fuel into the tanker industry and, in general, for vessels not tied to fixed routes or set timetables.
Grahaeme Henderson, Vice President, Shell Shipping and Maritime, said: "This exciting first for the Cardissa is a tangible example of Shell driving LNG as a cleaner burning and viable fuel for the shipping industry. It is highly appropriate that we celebrate this first with Sovcomflot and their first LNG powered tanker, which we also happen to charter."
Sergey Frank, President & CEO of Sovcomflot, said: "Together with Shell, SCF Group shares a determination to reduce the environmental impact of energy shipping. This was the genesis of our 'Green Funnel' project, and since April 2015 we have been working very closely with Shell on every aspect of it to bring the project to successful fruition. The first tangible result was the introduction into service of the world's first Aframax tanker to use LNG as her primary fuel – Gagarin Prospect. Her arrival and inaugural LNG bunkering, by Shell's tanker Cardissa heralds a new age of more sustainable and environmentally responsible shipping – especially in the high traffic areas of the Baltic and North Seas, where this new class of 'Green Aframaxes' will operate. We are proud to partner with Shell and look forward to a bright and cleaner future, as more and more vessels opt for LNG as their primary fuel, and the associated LNG bunkering infrastructure is established in key ports worldwide."
Allard Castelein, CEO Port of Rotterdam, said: "The Port of Rotterdam Authority highly values and actively supports a more sustainable transport sector. As a result of cooperation with many parties like Shell and Sovcomflot we are leading the way in this transition. Compared to other fuels, LNG offers significant benefits to local air quality and contributes to the reduction of greenhouse gasses. We welcome the Gagarin Prospect and her sister vessels to our port and look forward to many more secure and efficient LNG bunker operations."
Read the article online at: https://www.lngindustry.com/liquid-natural-gas/04102018/shell-bunkers-sovcomflot-lng-fuelled-tanker-in-the-port-of-amsterdam/
You might also like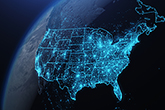 A Seapath and Pilot LNG joint venture will develop, construct, and operate a terminal in the Galveston Bay area supporting LNG-powered vessels.