LNG - 04 February 2021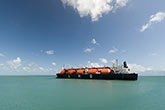 In SEA-LNG's 2021 Outlook for LNG, Peter Keller (SEA-LNG chairman) outlines the fundamental binary choice facing new-builds in 2021.
Adriatic LNG has launched a public consultation on the open season for the allocation of long-term LNG regasification capacity.
GTT has received AiP for its NO96 containment system application as an LNG fuel tank for Ultra Large Container Vessels from DNV GL.